Date added: 22 June 2009
Flying the flag
Armed Forces Week starts in Swindon
Armed Forces Week in Swindon started this morning with a flag raising ceremony at the Civic Offices.
The week of events, culminating in a Family Funday on Saturday and Military Parade in Swindon town centre on Sunday, supported by inSwindon, are all part of Armed Forces Week, which recognises the work of all of the UK's Armed Forces past and present.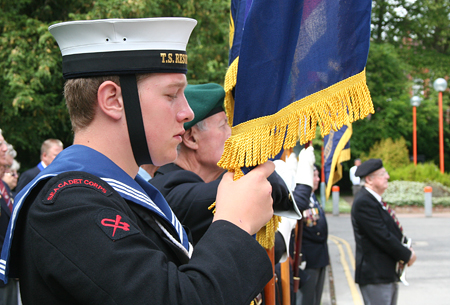 the flag raising ceremony at the Civic Offices
Armed Forces Week events:
Wednesday, June 24:
Retailer Veterans Badge Ceremony.
Veterans working in the retail industry in Swindon are being invited to a ceremony in which they will be presented with a badge by the Mayor of Swindon, at Wharf Green, at 11am.
Friday, June 26:
Gala Dinner.
With guest speaker Chris Moon MBE at Menzies Hotel, Fleming Way, Swindon, including a charity auction in aid of Help for Heroes.
Saturday, June 27:
Family Fun Day (11am-5pm).
A full day of activities in Swindon town centre and at Faringdon Road Park, including a motorcycle display team and birds of prey demonstrations, stalls, human table football, fairground rides, an assault course and a Volunteer Cadet Corps field gun run competition.
Wharf Green in the town centre will host an assault course and climbing wall, whilst The Parade will feature a giant spaceball.
Admission for all of Saturday's activities is free however charges will apply for fairground rides.
Sunday, June 28:
Military Parade.
A parade from Granville Street and along Commercial Road to Wharf Green, featuring The Waterloo Band of Rifles, a male choir, bugler and piper, with the parade forming at 2.30pm for a service and prayers at 3pm.

Armed Forces Week - Opening Ceremony - 22/06/2009
Armed Forces Day 2011
Military parade, veteran's badge ceremony plus a full day of family entertainment - SEE OUR VIDEO AND GALLERY...

TA' very much
Swindon TA centre welcomes new tanks for training...