Date added: 24 October 2009
Morrissey collapses
Update: Saturday 31 October
The holders of tickets for the abandoned Morrissey concert at the Swindon Oasis on Saturday 24 October will receive a refund, after the promoter confirmed that there will not be a rescheduled concert at the venue.
The Oasis will contact all ticket holders by telephone on the numbers provided at the time of booking.
When telephoned, ticket holders need to provide details of the card used for the booking, for security purposes.
Ticket holders who paid with cash, rather than by card, will need to go to the Oasis to receive their refund, which will be paid in cash. They will need suitable ID.
The refund will include the £2.50 per ticket booking fee.
Those who bought tickets from ticket agencies should contact them for a refund.
Oasis gig cut short after Ex-Smiths star collapses
UPDATE: Sunday 25 October 2009 3.36pm
Morrissey has left the Great Western Hospital after being treated overnight for breathing difficulties following his collapse at the Oasis.
Ex-Smiths front man Morrissey's appearance in Swindon was dramatically cut short tonight, when the singer collapsed on stage at the Oasis after just one song.
Morrissey, 50, was treated by medical staff on stage and transferred to the Swindon Great Western Hospital, where his condition was reported to be 'stable' on arrival.
Our photographer said: "He looked OK for the first song, but then went down on one knee at the end of the song and tried to stand up.
"He used the mic stand to get his balance but he couldn't stand and fell over towards the drum kit at the back. Guys rushed on stage and dragged him off down the stairs."
See our exclusive pictures below.
Morrissey Collapses Exclusive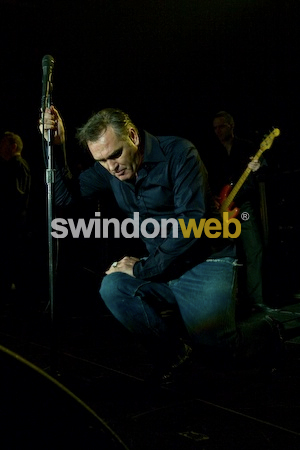 Exclusive copyright swindonweb.com
no reproduction allowed without
our express written permission

Morrissey at the Oasis - 24/10/2009
Pop central at GWH
Babyshambles star the latest to be rushed to hospital in Swindon...

24 November 2009