Date added: 14 July 2011
GARDEN GURU GAIL AND HER SECRET GARDEN
Keen gardener loves her garden and uses it to raise money for charity
To say Gail Reeve's garden is an oasis of calm is an understatement. Some how you just don't expect to find an interesting and colourful creation wrapped around a fairly modern home in the West Swindon area. But here it is – in a cottage garden style – and clearly this garden is Gail's pride and joy, a place where she potters for as many hours as she can spare.
This garden has been a real labour of love for a woman who moved to Swindon with her husband in 2003 and took over a garden that was little more than a muddy jungle of weeds and brambles. But in a relatively short space of time, Gail and John have transformed this modern space into a place of tranquility.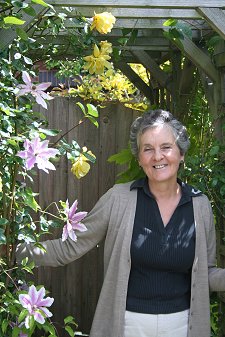 "I love gardening, it's my passion, it's just not a chore for me," Gail explains. "I spent many years in Zambia where, with the help of two other gardeners, I worked on a garden that was one and a half acres and I had a wonderful time and the garden attracted people from across the community. We just transformed it. "When we came to Swindon, the house had been rented out for about 25 years and tenants just don't do gardens. It was a disaster, a jungle."
Gail and John hired the services of a garden designer to bring shape and structure to the space. The designer also came up with a planting plan. "We worked from the plan to the letter, doing everything ourselves – otherwise it would have been so expensive.
"I would strongly advise anyone to do this for hard landscaping to help you see how the garden could look. But, for me the planting plan was a mistake. I soon realized that the planting reflected the garden designer's personality and not mine. A cottage garden style is my type of garden and it's such a personal thing, to create your own garden."
Over time, Gail has replaced original planting with her own style. Now retired, Gail's garden is her 'me' space which has a therapeutic quality.
"When my hands are in compost and the sun is on my back, that's my idea of heaven." If you want to pick Gail's brains about her gardening tips, particularly her knowledge of plants –the opportunity rises once a year when she joins an annual West Swindon open garden weekend in June. Sixteen homes in the Nine Elms and Old Shaw Lane area welcome visitors (for a small fee) to fund raise for Breakthrough Breast Cancer.
To date they've all raised thousands for charity. This year, Gail took visitors around the garden and sold bedding plants.
"This weekend is one of my favourite times of the year. It creates a real village atmosphere which you just don't expect to find in Swindon. When I get a lull, I rush off to look at the other gardens too!" Look out on Swindonweb for details of the 2012 event.
How to prevent injury
Our top tips to stay healthy in the garden - and avoid more than just a bad back! with Swindon Chiropractic Clinic

Budding Gardener?
Just starting? A few general tips for those with green-fingered ideas!...