Date added: 08 November 2011
The Secret to Success in the Bedroom
We talk to Dave Collins, owner of Superglide, a successful local business taking on the big boys
Dave Collins runs Superglide, one of Britain's most respected bespoke sliding wardrobe door manufacturers, and after more than a quarter of a century in the trade, this recession-busting local business is proof that size does matter when it comes to bedrooms.
But big isn't necessarily better.
Superglide employ just four people, if you include Dave, and while they don't have the clout of the DIY giants, they always beat them on quality and customer service.
More surprisingly, perhaps, is that their made-to-measure service can actually end up cheaper in the long run. To find the secret of Superglide's success, you need to start at their tiny factory in the idyllic picture-postcard village of Coleshill.
Most of the buildings around here are owned by the National Trust, and, nestled in a charming courtyard, Superglide are, to all intents and purposes, a typical old-fashioned family business, keeping up a centuries-old tradition of quality rural craftsmanship, building made-to-measure sliding wardrobe doors.
Traditional craftsmanship meets online success
Founded in the early Eighties by Dave's late father, Adrian, they have all the hallmarks of a cottage industry serving the local trade – but all is not always what it seems behind bedroom wardrobe doors. Only around a quarter of Superglide's business is from the Swindon area.
The rest arrives via the internet, and some comes from as far away as remote Scottish islands.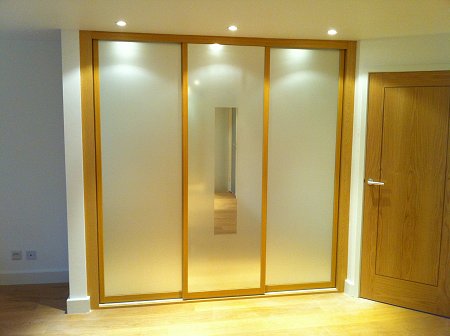 Superglide's
sliding wardrobe doors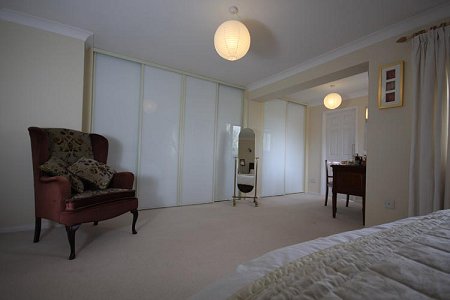 At 28, Dave understands that online trade is now key for businesses like his. "The net is extremely important to us," said Dave. "Indeed, our turnover is mostly dependent on online traffic. Our figures show that 80 per cent of our customers come via search engines – 79 per cent of it from Google. You cannot overestimate how important Google is to any business, and especially us. "There is no such thing as 'standard' at Superglide."
Every sliding wardrobe door they supply is cut to specific dimensions, and measurements are often supplied by the customer. And although you might be excused for thinking that offering a tailor-made service online could throw up problems, it's a system that works well.
"Although we offer a measuring service if customers want it, most of them don't, and are happy to supply their own dimensions," said Dave. "Being able to shop and order online means a lot to customers these days, and it works for us. We've had very few problems."
"We also offer a fitting service, and lots of customers take advantage of this, but we also find some customers are happy to fit the wardrobe doors themselves. "This is where made-to-measure sliding wardrobe doors can actually work out cheaper than buying from the likes of Wickes and B&Q."
The big DIY outlets deal in standard sizes, but as anybody who has ever tackled jobs around the home will tell you, there is no such thing as a standard house. And in some houses, there is hardly such a thing as a straight line or a right angle.
That can either mean employing a professional to work on standard sliding wardrobe doors that need to be cut to size, or putting in long hours, doing it yourself.
Worst of all, it could mean bringing in the professionals to put it right after you've done it yourself. Sometimes it's easier and therefore cheaper to get the professionals involved from the outset. Dave is routinely asked to overcome shapes and sizes that would confound the patience and the capability of the average DIY-er, such as trying to fit 21st century sliding wardrobe doors in the bedroom of a 17th century thatched cottage.
But he hasn't been beaten yet. "I haven't yet come across something we couldn't do," said Dave. "When you can make sliding wardrobe doors to whatever size is required, there is no hassle. They fit first time!".
Superglide's sliding wardrobe doors also come in all kinds of styles. You can have wood, veneer, aluminium or choose from a range of synthetic materials, you name it. Lightweight Japanese-style wardrobe doors used to be the biggest seller, and while Dave can still advise on the materials and colours that give that perfect oriental look, people have developed new preferences in their bedrooms.
"Full-length mirrors are now the most popular," revealed Dave, "and naturally we can supply glass sliding wardrobe doors to the exact dimensions you require."
It's here that we should spare a thought for Dave as he reveals the dilemma of working in the bedroom furniture and fittings trade. No matter how good your products, your craftsmanship is rarely admired by anybody except the customer.
"We do have some repeat business and some of it comes from our reputation being spread by word of mouth. But if you think about it, no matter how happy and proud you are with your new bedroom, you are unlikely to invite your friends and family up there to show it off." If you've had a new kitchen fitted, it's no big deal to invite people to have a look at it, but not the bedroom. It's just not the done thing.
It's a pity because – and the clue is in the name – Superglide's sliding wardrobe doors really do glide, and it's not until you try one for yourself that you see how much better these quality, hi-tech versions are, compared with doors bought off-the-shelf.
If you've ever fitted your own using those standard-sized sliding wardrobe doors and inferior fittings, you may not appreciate how satisfying smoothly the made-to-measure Superglide versions open and close in comparison. The answer is to visit the Superglide factory. Give Dave a call and he'll be happy to show you some samples. In fact, he suggests you make an afternoon of it. After all, Superglide are based in one of the most beautiful, quintessentially English villages on the map.
"We quite often get customers popping in who have decided to make a bit of a day of it. After seeing us, they go along to the café/shop at the other end of the courtyard, or walk over to the Radnor Arms for lunch, or just have a look around the village. And why not?"
A high proportion of our customers are older and perhaps retired, so it's a nice afternoon for them. "In these hard economic times, it's no wonder that, compared with many small businesses, things are still going smoothly for Superglide – and in more ways than one."