Date added: 28 May 2013
No More Than Four...
Swindon residents urged to be reasonable with their green waste
Swindon Borough Council is asking residents to be reasonable with the amount of green waste they leave out for collection following a surge in demand last year.

Due to the very wet weather, the Council was unable to cope with the huge amounts of green waste for collection. Some households left more than a dozen bags out, which meant the vans filled up much faster and other residents missed out on their collections.

Following a review, the council has introduced a limit to the service which means no more than four bags will be picked up from each household per fortnightly collection.

The proposal was voted through at a Cabinet Meeting on Wednesday, March 10 and came into effect on Wednesday, May 01.

People can get rid of their green waste immediately by taking it to the Household Waste Recycling Centre, in Cheney Manor Industrial Estate, which is open all day every day (except the Christmas and New Year bank holidays).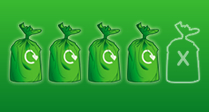 Households generating more than four bags of green waste will need to use this facility. Residents are also reminded that composting is a good way to manage green waste in their own garden.

Cllr Richard Hurley, Cabinet Member for Public Protection, Housing and StreetSmart, said: "We want to offer a green waste collection service that is as fair as possible for everyone. Due to budget pressures, it is not possible to increase the service so we are appealing for people to be reasonable with the amount they leave out for collection.

"Last year the extremely wet weather pushed our service to breaking point and we simply couldn't keep up with the demand. Hopefully there won't be as much rain this year so there won't be such an issue, but we are putting these sensible limits of four bags per household in place just in case and to make it a fairer service for all."
"We are appealing to people's reasonable nature. Fly-tipping is definitely not an alternative disposal option and there will be robust enforcement to tackle offenders."
"We have an excellent recycling centre that is open between 8am and 8pm in the summer months and there is no limit to the amount of green waste and other recyclables you can take there."
The limit does not apply to green waste generated by residents who are trimming back or cutting grass in communal green spaces. For further details please email communalgreenwaste@swindon.gov.uk
For more information please visit the Swindon Borough Council website via the link below.
Gardening in Swindon
Hints, tips and events for the novice gardener and those more green fingered!...