Date added: 21 August 2013
Upholstery Protection
New advanced treatment now available at Gilbert's of Swindon
If you're thinking of buying a sofa or upholstery, and you have pets, children or messy in-laws then Gilbert's in Swindon may have the answer.
They have just become official retailers for Aqua Clean - a new advanced upholstery treatment that makes removing stains incredibly simple, using just water.
"It's common problem for our customers," said Graeme Gatrill, the owner of Gilbert's Carpets told us, "because keeping upholstery clean in a busy household can be difficult."
"But when we saw the Aqua Clean demonstration we were very very impressed. Using just water it removes things like pen marks, food & drink stains and other general day-to-day marks."
"We now sell a lot of our upholstery with the Aqua Clean option."
The treatment is invisible and does not affect features such as texture, colour or odour. Aqua Clean is a mollecular shield which surrounds each fibre, preventing the stains from soaking into them.
Gilbert's of Swindon are happy to offer an in-store demonstration of Aqua Clean & can be contacted via the link below.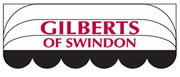 SN1 3DX