'A Fab, Original Idea!'
Swindon-based product receives high praise & an award!
Swindon-based fledgling company My Living Water UK Ltd has recently won an award for their probiotic cleaner 'Libby Chan'.
Libby Chan was voted winner in the Best Multi-use Household Product in the renowned Platinum Awards headed by holistic author & radio personality Janey Lee Grace.
"A fab, original idea. The power of probiotics for your cleaning." Janey commented.

Formed just a year ago, My Living Water is run by husband & wife team Nik & Miki Cameron from Abbey Meads. After being diagnosed with a severe illness Miki started to research & make her own cleaning products at home including soap & toothpaste.
Miki eventually developed libby chan which is based on proven probiotic technology from her home country, Japan. Libby Chan is not just another green antibacterial, it is actually full of friendly bacteria and other active impact microorganisms that clean your house and make it far safer than any antibacterial cleaner can!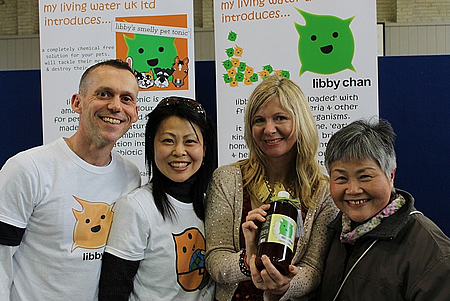 L-R: Nik, Miki, Janey Lee Grace & Miki's Mum!
On receiving the award Nik said "We couldn't quite believe it. We knew we were entered but as we are so new and so small we never dreamed of winning."
"On the day the results were published I was scrolling through twitter looking at the winners actually thinking to myself 'it would be great to be there one year' and then I saw our product and the word 'winner' right next to it! Wow!"

Their award winning Libby Chan cleaner is available to buy from Purton House Organic Farm Shop in Purton and at Mai Doh Japanese food market within Blunsdon Market.

For more information please visit the My Living Water website via the link below.
Bokashi!
Not heard of Bokashi? My Living Water explain how it can help you in your home...

Chemical-Free Household Cleaning
Looking for a natural approach to keeping your house clean? We found out more about Libby Chan - made here in Swindon!...

07 February 2013