Date added: 12 June 2017
Teaching A Dog New Tricks!
Janet's Puppy Skool celebrating English Tricks Champion award
After training hundreds of dogs for other dog owners over the years, Janet Garrett of Janet's Puppy Skool in Haydon Wick is celebrating the achievements of one of her own dogs this week.
After two weeks of gruelling training, Mack, a Bouvier des Flandres has just been awarded a Trick Champion (TDCH) title - the only dog of his breed to have achieved the accolade.
The Trick Dog Champion is the highest tier title, and is awarded to exceptional dogs who can demonstrate outstanding skill in performing a large number of difficult tricks.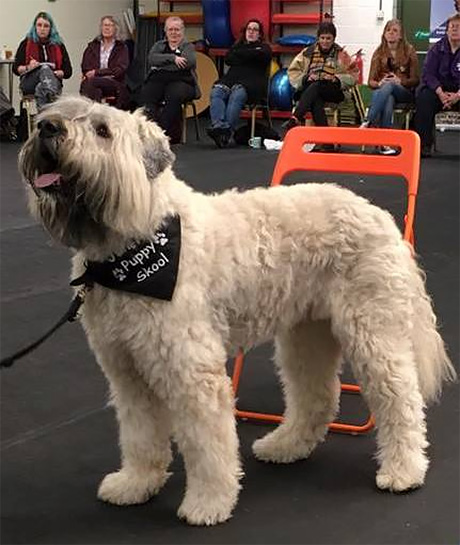 A delighted Janet Garrett commented "to say that I am exhausted is a complete understatement but I'm so, so thrilled!
"TDCH Mack and I look forward to getting back to work when classes start back this week with a huge smile on our faces! After a 2 or 3 week break – watch out America - we're coming after the American Champion title!"
For details on Janet's Puppy Skool please visit the website via the link below
Summer Lark!
There's a new, naughty addition at Janet's Puppy Skool - just in time to join in with the summer training classes!

Pandemic Puppy Training!
Janet has seen nearly every breed at her school since lockdown began - but it's NOT all labrad-oodles of fun for some!...

26 July 2021

Fundraising To The Macks!
47 tricks in 47 days & over £1,200 for Children in Need for Janet's Puppy Skool star pupil - VIDEO

17 November 2018

Four Legged Life-Savers!
Puppy Skool fun day raises enough money for 5 defibrillators for Swindon Heart Safe campaign - SEE PICTURES

27 June 2017

New Year, New Dog?
Owners and best friends enjoy fun classes at Janet's Puppy Skool in Swindon - WATCH VIDEO

Sport Relief Walkies!
Swindon 'Puppy Skool' raises money for charity with one-mile dog walk...

22 March 2016

Dog Pound!
Fun day at Janet's Puppy Skool raises over £1000 for Children In Need - SEE PICS

18 November 2015

Janet's Puppy Skool
The joys of owning a dog! We enjoy a puppy training session in Swindon - WATCH VIDEO