Date added: 27 November 2007
Energy-efficient homes promoted
Houses in Swindon could become a lot more energy-efficient, thanks to the expert advice given at the Big Green Home exhibition last week.
Held at the National Self-Build & Renovation Centre in Swindon, the event was supported by the independent estate agents, Strakers, who had four Domestic Energy Assessors (DEA) and chartered surveyor, Jim Dutch, to advise visitors.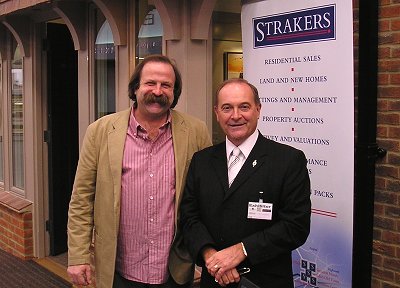 Dick Strawbridge (left) with Jim Dutch,
chartered surveyor at Strakers

Celebrities including Tommy Walsh from Groundforce, and Dick Strawbridge, who rose to fame in a BBC documentary about his family's journey to being green, were also there to help endorse the campaign to make our homes greener.

The aim was to publicise Home Information Packs, which are now needed on houses up for sale which have three or more bedrooms. Part of the initiative involves an Energy Performance Certificate – and the more energy efficient the property, the better the energy performance rating.

Jim Dutch said: "Things like better loft insulation, double glazing, cavity wall insulation, and low-energy light-bulbs really make a difference."
Strakers strike again
Successful Swindon-based estate agent opens in Marlborough High Street...

29 November 2007