Date added: 29 November 2007
Strakers strike again
Another success for Swindon-based independent estate agent
There was Christmas cheer a'plenty in Marlborough this week with the annual lights switch-on, but staff at Strakers estate agents have had more than enough reason to raise their glasses high, with the opening of their first Marlborough High Street branch.

The official opening took place at the same time as the High Street's Christmas lights switch-on, with Strakers' staff hosting a champagne reception with freshly baked gingerbread houses to get their guests in the Christmas spirit.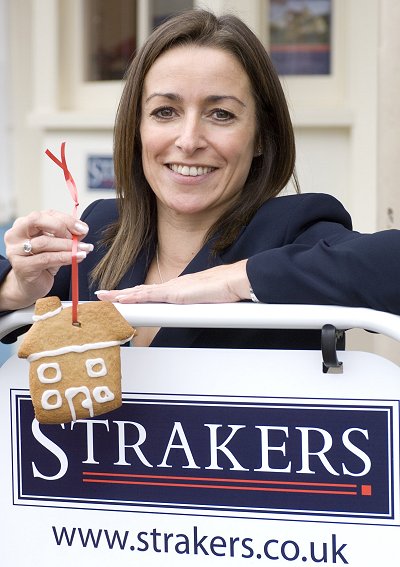 Estate agent Emma Woodhouse, celebrating the
opening
of
Strakers' Marlborough branch with a gingerbread house

The event also offered staff at the successful firm the opportunity to meet and greet the people of Marlborough, and build some recognition of what they can do for the housing market in the town.

Manager of the new branch, Paul Warren, with his staff members, Emma Woodhouse and Maxine Fenton, are all set for their new venture, whilst the company's Managing Director, Antony Bulley, will spend a period of time in the new premises to help them settle in.

As with their existing offices across the county, the Marlborough branch will be linked up to all the others via a computer system, so that customers may visit any of their outlets to find all their latest properties for sale, let or auction.
This is the company's ninth branch, and the company is getting bigger and bigger, with their tenth outlet on its way at the start of next year.
Managing Director, Antony Bulley, said: "We believe we offer an excellent service, based on our in-depth knowledge of the local market and our many years in the business.
"Marlborough was the one major market town in north Wiltshire where we didn't have a presence, so we are now delighted to have opened up here."