Boiler Service - Tips and Hints
Advice on why it's essential, what goes into a proper boiler service and who should do it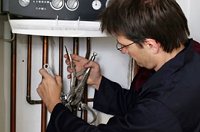 a boiler should be serviced
With the nights drawing in and winter just around the corner, it may be a good time to start thinking about the servicing needs of your boiler.
Every house needs one and properly maintained they can last for years, heating and providing hot water all day, everyday.
Carbon monoxide

But a faulty boiler can be dangerous. Carbon monoxide poisoning is a real threat if the boiler isn't checked and serviced at least annually.

The end of summer is a good time to book a service to avoid the busy winter months when a lot of breakdowns do occur.
And to help, we've compiled a Top 10 checklist of things to look out for when getting your boiler serviced.
We've assumed here it's for a more modern
combination (combi) boiler
but ask the plumber if you have an older one.
Boiler Service - Top 10 checklist
Make sure the plumber is GAS SAFE REGISTERED (formerly Corgi). Only Gas Safe engineers are qualified to service and sign-off a proper service. Never cut corners on this - or get someone unqualified to service it and then ask a Gas Safe plumber to give it the once-over.
The basics first. Before he's even got his tools out (and perhaps ven been offered a cup of tea) the engineer will first do a visual check to make sure your boiler still meets current standards.
These include electric regulations, building regulations, water bylaws, gas safety regulations, manufacturers instructions and British standards. Rules and regulations are changing all the time and in some cases other work may need to be carried out to meet these.
3. Fired Up
Following the visual check, the case will be taken off and your engineer will then fire your boiler to identify any working faults.
4. Check The Flues & Components
Hhe or she should then check to ensure flue terminals are unobstructed and flue components are sealed properly and that all components are clean and undamaged.
Components checked will include the main burner, heat exchanger and main injector, sparks, seals and fan. All joints and pipe and water.
5. Burning properly and efficiently
With the price of gas these days no one wants to use more than neccessary. The plumber will check the gas valve is properly adjusted to check your burner is combusting efficiently and properly.
6. Cleaning
Boilers can become dusty and full of fluff over time. And with any hot surfaces it's best to keep it down to a minimum. The inside casting surfaces should be cleaned and boiler parts cleaned if necessary.
7. Leaks
Very important. Even the smallest leaks of gas or carbon monoxide can cause illness - and worse - if left undetected. The engineer will perform a
gas tightness test
to ensure there are no leaks.
8. Cost
Ahhh, yes. If your engineer finds anything wrong with your boiler during the service they should give you an idea of any additional cost. The service should take a minimum of
half an hour to complete
.
9. Case Back On
The boiler casting will be put back on by your engineer and they will check that it is sealed correctly.
10. Service Report
A proper service should always include a full report, outlining all the work your service engineer has carried out not only for piece of mind but proof that the service has taken place. If you're thinking of selling the property, it's probably one of the first things you'll be asked.

Like we've already said, not all boilers are the same. Some may be older and require more work but your engineer will explain what they are doing if this is the case.
Look out for the Gas Safe Logo. All proper plumbing engineers are registered.
| | |
| --- | --- |
| | Gas Safe registered plumbers in Swindon specialising in central heating, boilers, bathrooms and emergency call-out. |