Growing Your Own Food in Swindon
Expert tips and hints on getting started
Everybodyís digging it - because itís becoming the coolest thing to do with your spare time.
Growing your own food may sound like something that went out of fashion once the Nazis were defeated, but in the 21st century it ticks all the right boxes.
Itís a gold-plated recession-buster with the potential to save you hundreds of pounds, and if youíre concerned about the environment, itís as green as you can get.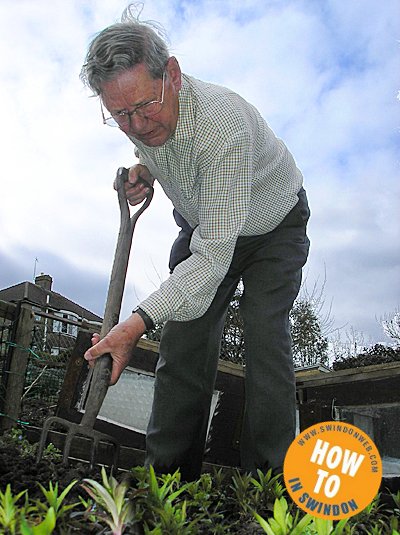 Make the most of your Swindon patch:
follow Don Reeve's tips and you'll be growing your own in no time
And on the health front it scores several ticks, all at once.
Now you can not only look forward to eating more healthily, but all that digging and weeding will also make you fitter, fill your lungs with fresh air and de-stress you better than valium. It should be on prescription.
Itís so good, in fact, that nobody can quite work out why a whole generation or more lost the know-how and the inclination to grow their own stuff.
But those of us who never knew or have forgotten how to do it, and are wondering how to get back on the land, need not fear.
The first thing to say is that gardening is as easy or as difficult as you want to make it. If you just want to grow your own food, itís simple.
It takes very little know-how to be able to produce a decent crop of spuds, for instance, and even novices can expect a surprisingly high success rate with most of the things they want to grow. Neither is it as time-consuming as you might expect.
As little as two or three hours of work a week will yield enough food for a couple or a small family - and probably leave you with some leftovers.
And whatever snags you meet, you can rest assured that there are plenty of people around who are not just willing to help out but keen to pass on their vast knowledge.
You donít even need much space or specialist equipment, and you wonít be forking out vast sums of money to get started. And all those materials, such as seeds, fertiliser and other stuff can be supplied at surprisingly low cost and be made to go a long way - if you know where to look.
There has never been a better time to get back to the land, and now is the perfect time of year - but donít take our word for it.
If you want to find out about growing stuff, ask a Swindon man with 70 yearsí experience...
How to prevent injury
Our top tips to stay healthy in the garden - and avoid more than just a bad back! with Swindon Chiropractic Clinic