Self-sufficiency For Townies
As part of a series of articles about growing your own food, we meet a Swindon couple who opted for a 21st century version of The Good Life
Pete and Julie Lucas are living The Good Life – more than 30 years after the comedy programme first introduced people to the prospect of a 'green' alternative.
The Swindon couple say they haven't looked back after coming up with their own 21st century version of self-sufficiency for townies.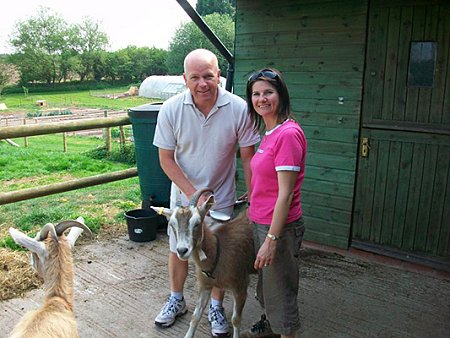 Living the grow-your-own dream:
And although it took a couple of health scares to persuade Pete to bring forward a retirement plan that involved growing all their own food and living a fulfilling rural life, he is urging others to look into the possibility of the same change of lifestyle.
"I've always been a keengardener - ever since I used to help my dad as a boy," said Pete, who is now 50. "Julie and I both love being out in the open air, so after 30 years of office jobs it seemed like a good idea.
"My philosophy at work had always been to work as hard as I could to save for my retirement. Then, in 2007, I had a heart attack and it made me re-assess my goals and timings. I returned to work, but was never the same again, and after further heart scares, I had a very open and frank discussion with my boss.
"We decided it would be for the best if I semi-retired early, at 47.
"The decision to rent out our Swindon home and move from an office job to living off the land has been a brilliant one, and one I do not regret for an instant."
From print to pig-keeping
Pete, who was a company director with Swindon printers ESP Colour, still works about a day a week for the firm – often from home - and is in the office a couple of days a month. Julie also works part-time – around 18 hours a week.
The rest of their time is spent tending the two-acre smallholding where he and Julie grow a range of crops and have kept chickens, goats, lambs and – recent new arrivals – pigs.
Pete says growing your own food is easier than most people think, although he wouldn't necessarily recommend the scale of their current operation to beginners.
"It's been more physical than I had imagined, so you need to be pretty fit. Some days I'm completely knackered. I'm not the strongest bloke so, for example, operating rotorvators, carrying heavy loads,building fencesanddigging trenches all take their toll."
This year's crops include potatoes, beans, peas, parsnips, carrots, courguettes, tomatoes, sprouts, cauliflowers, cabbage, beetroot, onions, garlic, cucumber, butternut squash, pumpkins, lots of different herbs,strawberries, apples, pears, cherries, sweatcorn, raspberries, redcurrants and gooseberries.
But Pete's advice is to start slowly and not try to grow too much until you get a little more experience, perhaps treating it more as a hobby before deciding on any major lifestyle change.
"You don't need masses of knowledge," he insisted. "As my old Latin teacher at Kingsdown used to say, there are plenty of books in the library! And, of course, there is plenty on the internet, these days, to help you too.
"Planning is the key. Julie and I are great list-makers. We will look at, say, the next four days, and list out what we want to achieve and how we're going to get it all done. Julie is in charge of R&D (research and development), and I'm Production. We've been fortunate to live next to fantastic neighbours who seem to know everyone and anybody who can help us with any problems we have.
"It's not so much what you know as who you know!"
Supermarket shop just once a month
The rewards, insists Pete, are huge.
"Don't overlook the simple pleasure of watching animals and plants grow, but the best bit for us after 30 years in offices is being outdoors for most of the day.
"We also get a huge kick out of looking at the dinner plate and knowing everything on there has been grown in our garden.
"We only go to the supermarket once a month now. Our shopping list includes very little food - just milk, margarine, cheese, flour (we make all our own bread), coffee, tea and suchlike.
"The plan is for our goats to have kids next year and then we can produce our own milk, butter and cheese.
"We also buy a few household goods, such as toiletries, and we do get beer and wine in when we have people over.
"Our monthly bill is around £50."
Build it, grow it... eat it!
The new lifestyle has meant a change of diet, but it has been nothing too radical.
"Our first thought at mealtimes is what can we eat from the garden and what do we have in the freezer?
"We've stopped buying rice and pasta, and eat potatoes instead. So it will be Bombay potato with a curry, and we make our own gnocci to go in our tomato sauces. We have lots of vegetarian meals, but we are not vegetarians. Most of the meat we have is lamb. It then becomes a special treat to have, say, chicken.
"We keep chickens for eggs, but plans are afoot to rear them for food."
Would all this have happened without the example set by self-sufficiency couple Tom and Barbara in The Good Life?
"Possibly not," says Pete, who said the fictional characters paved the way, but it has been those who took the idea and did it in real life who have been the real inspiration.
"I think The Good Life put the seed of the idea into a lot of people's minds and I wonder if there would be so many smallholders around if Tom and Barbara hadn't done it first. I doubt we'd have had the courage to start something completely untried.
"I used to love watching it on TV, so it's good to be compared with Tom and Barbara. Like them, we have great neighbours, although they are hardly Margot and Jerry!"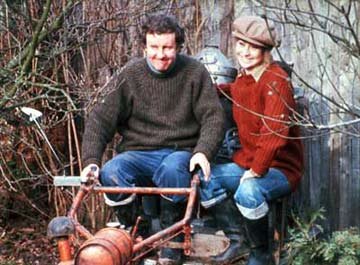 1970s self-suffiency ideal:
Tom & Barbara in the BBC comedy The Good Life
But the 1970s idea of self-sufficiency needed modernizing before it could be made to work in the 21st century.
"We still had to dig up an established garden and set out all the fences, polytunnel, greenhouses and veggie beds, but we are more out in the country, rather than in a suburb. We do have goats like he Goods, although neither are called Geraldine.
"Like them, we work hard and have great fun, but we did buy our own Christmas crackers."
It goes without saying that the Lucases think their life has taken a change for the better, but how has it changed their outlook?
"It's a well worn phrase, but 'live for today' is definitely our maxim. There's only one problem with that – our new lifestyle means we have to constantly plan for the future!"
Any regrets?
"Not so much a regret as a disappointment," said Pete, who was brought up in Upper Stratton in the 1960s, and lived all his life in the Swindon area.
"Unfortunately, when we looked at adopting this lifestyle in Swindon, we just couldn't make it work.
"From our research we knew we needed around two acres to be able to do all we wanted. That type of property just doesn't exist in this area, or at least not at a price we could afford.
"We initially started looking in south-west Wales, then Norfolk, and even in Lincolnshire.
"Eventually, we found this place in Worcestershire and it's perfect. It also means we are nearer to Julie's folks on The Wirral, and it's still relatively easy to come home to Swindon.
"It would have been good to have stayed nearer to friends and family in Swindon, but we still see them regularly, come home to deal with our house, which we are letting, and I come here for work.
"But it is very difficult to live the good life, properly, in Swindon – for the moment at least."
Some good advice about the Good Life
Pete and Julie Lucas have made a success of their version of The Good Life and would encourage others to give it a try, but they warn there are pitfalls.
"We have no regrets about swapping our office jobs to 'live off the land'," says Pete, "but that's not to say we wouldn't do things differently next time.
"There are lessons to be learned from our experience, including some things that you probably would never think of on your own.
"In our first year, we tried to spread ourselves a bit too thinly and tried too many new projects. We ended up being able to feed ourselves right the way through the year, so it wasn't all bad!
"Our biggest problem was an attack of tomato blight. We'd built our own polytunnel and filled it with 130 tomato plants. They were all doing really well, all about eight feet high, and we were inundated with fabulous tomatoes.
"Then we noticed the stems, leaves and fruit turning brown. Almost overnight, blight had swept through the whole crop.
"I subsequently found out that we had been doing just about everything right to attract blight into the polytunnel. We'd been watering from a sprinkler system above the plants, creating a very humid atmosphere. I also had too many plants, too close together, and there was not enough air circulation. My potato patch was also very close.
"There must have been over 100kg of fruit affected, and they all had to be pulled up and burnt."
And it is not always wise to go with your instincts.
"Your naturally try to save every plant that you grow. I planted around a hundred cauliflower seeds, thinking only half would come up.
"Of course, they all germinated and developed into lovely little seedlings. It's then very hard not to lovingly transplant all of them into little pots to grow on, and then transplant them all to the garden to grow up themselves.
"Before you know it, you have 100 plants competing for space and attention. Then the cabbage white butterflies come along and soon we are the world's biggest breeding ground for caterpillars.
"We don't use any chemical sprays and prefer to squish instead, but this is extremely time-consuming and,before long, we had lost most of the crop to these little green monsters.
"The lesson is to think of how many cauliflowers we might eat in a year – 15 to 20 at most - and only grow this amount. Sounds obvious, but I bet most gardeners have been through this."
Don't get too attached to the pigs!
Overcoming the dilemma of keeping animals for food
Although most people are happy to eat meat, many are put off keeping animals for food because of the dilemma of slaughtering them.
It's always the big issue when you take the step from growing to rearing – and it has been no different for Pete and Julie Lucas since they swapped Swindon office jobs for living off the land.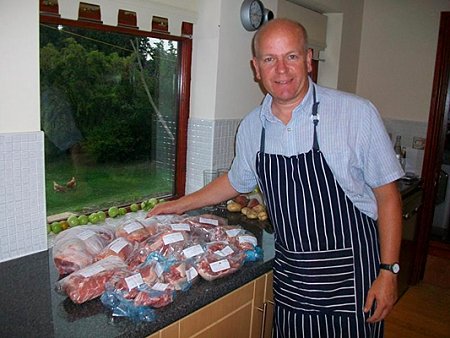 Pete & Julie's home-grown lamb
Pete admits he "never really was an animal lover" before, but since having their own pigs, goats, lambs and chickens, he can see the attraction of having animals around.
"They are great fun," he said, "and I love their complete confidence in the fact that they should have all your attention.
"I keep a mental differential between the ones we are going to keep and the ones we are going to send off for meat. So I haven't had too much of a problem with my trips to the abattoir.
"I'm a bit concerned that Julie is becoming too attached to the pigs, though!
"All the advice says you should not name the animals, but that is easier said than done. Your mind seems to give everything a reference, so, for example, the lambs became Brownface, The Quiet One, Horny, Ripped Ear and Fluffy Balls. We originally had nine, and because Julie is a Trekkie, one of them had to be named after a Star Trek character, Seven of Nine.
"To be honest, I didn't really know how I would feel about the animals being killed.
"In our lives we don't really get to see where our food comes from. We see a lovely fluffy white lamb in a field and have no real knowledge how it then becomes packaged and sold in the supermarket.
"Rounding up a couple of lambs and taking them off to the abattoir was a strange experience the first time, but I knew I'd have to get on with it.
"The whole process is very professional, though, and the abattoir itself more like a farm than a butchery. There is a vet to check all the animals before they go in. It's all very stress-free for the animals, not to mention the owners.
"I'm not sure I'd want to see what happens to them after they've entered the building, though."
And finally.... the big question
Pete says it is inevitable that more and more people will be attracted to their kind of lifestyle, but warns there are limits to its viability.
Growing and rearing enough food for your own table is relatively easy, but producing a surplus to turn into money to pay all the bills is probably unrealistic.
"You'll be amazed how much food you can grow in a relatively small space," he says, "so get out into the garden straightaway – and don't wait until your retirement.
"Anyone can do it, provided they have the right property, energy and commitment."
Being self-sufficient in food is probably as realistic as it gets, but there is a modern equivalent of the generator that Tom and Barbara installed in their cellar in The Good Life.
Pete and Julie had solar panels fitted to their roof in February 2011, and these now generate up to 4kW of electricity an hour on sunny days. "They're great, and it makes us feel good that when the sun's out, all our electricity is free," said Pete, who is also looking into the possibility of installing a wind turbine in the future.
They receive a government subsidy for each kW they produce through solar energy, and this is crucial as it makes solar energy financially viable. But Pete says education is just as important as subsidies if more people are to be persuaded to take green options.
"I remember having rural studies lessons at Kingsdown School, which were taught by the appropriately named Mr Cherry." explained Pete.
"I think it's essential for kids today to really understand about food and nutrition, and school should have a role to play in that.
"Kids need to know where their food comes from and how it gets to their plate. Then they can make much more informed decisions before they bite into the next Mars bar.
"Even in the farming community there is a danger of skills being lost, because sons and daughters seem less interested in carrying on the family business.
"But I'm hopeful that it will turn around naturally as fuel prices increase.
"I can see us going back to the days of the local farm shop, and I think we will all have to become more localised – even in Swindon."