Which BBQ?
Gas, Hibachi or Brazier? And why late summer is the best time to buy!
There is a staggering choice on the market when it comes to buying a grill for a barbecue now.

From the small Hibachi grills right through to a 55-gallon steel drum grill.

Well it's important to think about how you want to use the grill, for how many people and what space you have available.
Grab a late summer barby bargain!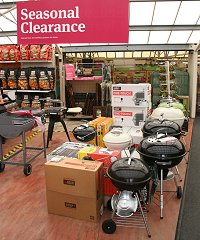 Not only is August
supposed
to be the hottest month of the year it also marks the end of the summer as far as garden centres are concerned.
To make way for autumn and winter stock, expect to find barbecues taking up valuable space - and on special offer!
After all the BBQing at the start of the year, you'll be a needing a new one anyway!
We spotted these little beauties (right) just waiting to be taken home and cooked on at Blooms Garden Centre just off jnct. 16.
Right, back to barbecues.
The Hibachi is the smallest grill, is portable and charcoal-based. They come from Japan and prove that a simple design can be the best.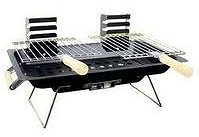 They consist of a rectangular or oval fire box with one or two metal grates. These are particularly good for barbecuing kebabs, teriyaki and small cuts of meat because of the high heat they produce. But not great for overly large gatherings.

Temperature is controlled by air vents near the bottom and by raising and lowering the grates.
Much improved over the years and a lot more effective than you think. They normally last about an hour and are perfect for picnics or a trip to the beach.
This design comes from America and has a deep bowl with a grate in the bottom for holding charcoal and a grate on top for food.
The lid is also rounded, allowing for it to be used as a smoker or an outdoor oven.
The best versions have hinged grates for easy access and slotted side baskets for holding the charcoal. This means it can be used for what's known as 'indirect grilling' or smoking. Increasingly these are being produced in a square shape.
This is a long, narrow grill (four to six feet in length) and looks like a table with a grate on top. Legs hold the grill at waist height for ease of cooking.
There are charcoal-based grills which have a shallow firebox and an adjustable grate. But there are also gas versions with temperature controls. These are suitable for cooking a large number of cuts of meat or fish and perfect for big summer parties!
A nice cheapy option and ideal for small patios. Most have legs and wheels for easy movement.
Buying one with a hood is always a good idea just in case it rains!
The Rolls Royce of barbies and definitely the best - if you can afford one. But with prices coming down over the years, gas barbys aren't as pricey as they used to be - and for regular BBQers a good investment.
Some would say that using gas takes the fun out of using real hot coals to grill your food, but don't believe them. Heat is instant and controllable and just the job for impromptu parties.
If you have the space, a brick-built barbecue can be great - but not cheap!
A properly built one (rather than a pile of bricks in the corner) can cost about £200 and, for obvious reasons, you need to choose carefully where to position it (ie) think of the neighbours and all those lovely BBQ smells wafting into the lounge.
55-gallon steel drum grill
Often used by chefs involved in professional barbecues and are often
homemade.

An industrial steel drum is cut in half lengthways and legs, a chimney, a grate, hinges and handles for lowering the lid, are added. This is for serious barbecuing such as a hog roast.
DFY BBQ
That's DONE FOR YOU! And these are the people in Swindonwho who can do it - TOP TIP...

Wine & Drink
Brian from Magnum Wine hand-picks the ideal summer plonk, fizz and beer...

BBQ Food
Some simple sizzling ideas and recipes from Swindon's Mr Sausage, Andy Crump...

Safety Tips
Flash fires and tipsy chefs can lead to all sorts of problems, not to mention underdone chicken drumsticks!...