DFY BBQ
That's DONE FOR YOU! And these are the people in Swindon who can do it
Ahhh, how wonderful it is to do nothing - then rest afterwards!
That's the thing with a barby, someone has to do the hard work. And that normally means the cooking - and then clearing up.
So sometimes, when it's a big party or celebration, it pays to get the pros in. No naughty aprons, no burnt sausages and no limp salads

.
And with perfect timing there's a new name in town in gourmet dining in Swindon –
The Quality Dining Group or QDG
.
Top tip for a luxurious BBQ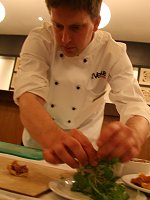 Here the experts who work within the business (which provides classic and first class catering) have offered us a few tips for a high quality barbecue.
This is just one simple way of something al fresco into something deeply luxurious.
Take hickory or oak chips (which you've soaked in water for 30 minutes) or twigs of rosemary, thyme, sage or fennel and scatter them on the hot coals while cooking.
This adds smokiness and the aroma of the woodsmoke, to the foods you cook giving more depth of flavor. For a
gas barbecue
, add the herbs or chips to the smoke box.
It's the ultimate barbecue kit, chef included. With food from traditional to gourmet, their staff provide the barbecue, cutlery and crockery.
Your chef will cook as their staff serve and clear up.
All you need to do is supply the people!
Wine & Drink
Brian from Magnum Wine hand-picks the ideal summer plonk, fizz and beer...

BBQ Food
Some simple sizzling ideas and recipes from Swindon's Mr Sausage, Andy Crump...

Safety Tips
Flash fires and tipsy chefs can lead to all sorts of problems, not to mention underdone chicken drumsticks!...

Which BBQ?
Gas, Hibachi or Kettle? And why late summer is the best time to grab a barby bargain!...