Date added: 09 June 2008
Wichelstowe opening
Family fun day at Swindon's newest housing development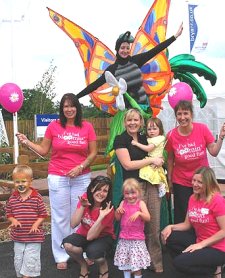 this weekend's
Wichelstowe
opening was fun for all the family
The new Wichelstowe development between Old Town and Wroughton opened its doors to the public on Saturday, for a family fun day.
The event gave local residents the opportunity to learn more about what's planned for the area, and to see the changes already taking place.
With stilt walkers, a bouncy castle, refreshments, and representatives from George Wimpey and Bryant Homes on hand to talk to parents, it was a fun day for all.
And we bet the glorious weather helped too.

Wichelstowe opening - 09/06/2008