Date added: 09 August 2008
Grand Re-Design?
Story update: Tuesday 02 June 2009 2.40pm
McCloud waiting on Swindon Borough Council
Kevin McCloud is still confident his plans for Pickards Small Field will go ahead despite a delay in full planning permission being granted.
An application has been made by a number of local residents to turn the former allotment into a Village Green in a bid to thwart any development of the site, and McCloud must now wait until a decision has been made on this before he can move forward.
"The Council own the land and they will decide on how it be will used," he told SwindonWeb. "I'm still committed to developing the site so I await their decision."
Story update: Saturday 09 August 2008 12.31pm
"I'm not going to pull out now...."
McCloud tells SwindonWebTV he's more committed to his Swindon eco project than ever before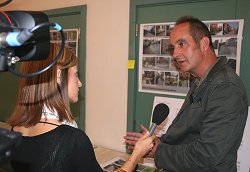 Kevin McCloud interviewed by
SwindonWebTV's Kirsty Heber-Smith
Kevin McCloud was in Swindon today to present the next stage of his Pickards Field development - and refute stories that the project is under threat.
Speaking to SwindonWebTV at a presentation of the latest plans for 200 homes on a site near Pinehurst Road, McCloud reaffirmed his commitment to Swindon and why HAB Housing's split with the original architects would not be effecting it.
"I'm not going to pull out now..." he told us in an exclusive TV interview for SwindonWebTV.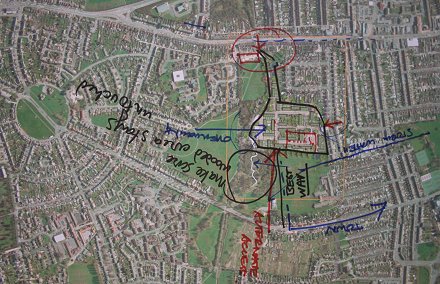 the plans on show at a residents consultation meeting at the
Gorse Hill Baptist Church today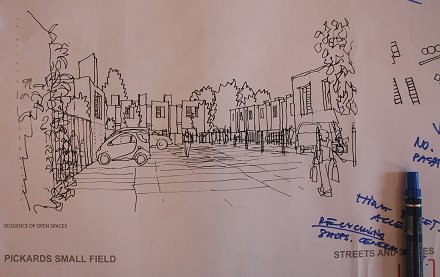 Kevin McCloud project for Swindon uncertain after architect split
It looks like the housing downturn may have claimed another victim - Kevin McCloud's eco dream for Swindon.
The Grand Designs guru had planned to build 200 houses on a site in Gorse Hill called Pickards Small Field, but after a major argument with the architects for the project, the scheme is now facing an uncertain future.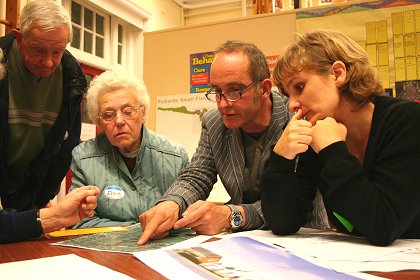 Kevin Mcloud at a consultation meeting with local
residents concerning the Pickard Fields project
in May this year
In a report today on leading architecture website, Build Design Online, (link below), McCloud's firm HAB Housng has dumped architects Wright and Wright in a row over fees.
A dispute made worse because Wright and Wright now claim copyright over their Swindon plans so far, leaving McLoud in a position where he may have to re-design from scratch.
McCloud admits the relationship to date had been 'bumpy', but is happy that HAB Housing have acted 'honourably' in severing ties.
Architect Glen Howells has now been appointed to the project.
McCloud, who is well known for his Channel 4 property series Grand Designs, launched Hab two years ago in frustration at the low-quality, low-investment world of volume housebuilding. And chose Swindon as the location for one of his first major developments.
Launching the £19 million pound project in July last year alongside Swindon Borough Council and Westlea Housing Association, he said he wanted to 'create vital communities, which are beautifully designed and environmentally friendly'.
Potentially ground-breaking:
the Pickards Small Field site off Pinehurst road
In May of this year, McCloud made two appearances in Swindon to attend consultation meetings with local residents affected by the plans.