Date added: 26 November 2008
Is buy to let still a good bet?
Free seminar on offer this Thursday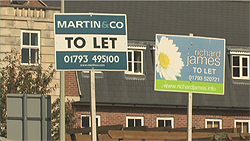 Property market:


advice on potential investment
opportunities is on offer
It's hitting the headlines daily - but what is the answer to dealing with the property market at the moment?
With this is mind, chartered accountants, Monahans, along with CLM Solicitors and Dreweatt Neate Surveyors, are hosting a seminar on the topic of Buy to Let this week.
The event takes place at the National Self Build and Renovation Centre, just off Junction 16 of the M4 at 5:30pm on Thursday 27th November.
The seminar will cover the local market, financial returns investors might expect to make and things to consider when thinking of investing in a Buy to Let property.
Expert help is on hand for those who already own a portfolio or are planning to dispose of a property.
Those who attend will also have a chance to look around the exhibits at the National Self-Build venue which opened in 2007 as a one-stop-shop for those thinking of renovation work on a property.