Woodburners and fires
To Woodburn or Not To Woodburn?
A few quid to buy - but cheap to run! That's a woodburner. One of the fastest-growing methods of heating homes in the UK.
And here's just a few reasons why.
They don't look half-bad and can really give a warm and comfy feel to a room - even when they're not on!
For heat efficiency they're also spot on. A good stove actually channels heat into your home.
Wood burners help the environment
Burning wood is good: it contributes to a carbon neutral output and is a net remover of greenhouse gas. Plus the wood used encourages better management and controlled harvesting practices of certain types of woodland.
Wood burners can be installed for less than you think
But don't cut corners. All wood burners must be fitted by a HETA registered installer (from April 2006 you must obtain a HETAS certificate and comply with building regulations) to lessen the risk of unsafe carbon dioxide emissions, insurance problems and future difficulty when trying to sell your home.
Prices for stoves vary so shop around, or buy a second hand one. A supplier who is a certified HETA installer will know what's best.
Top tip: go with the best one you can afford.
Wood burner running costs are low
First of all, to keep your stove running well you should get your chimney swept each year. This can cost between £20 and £40. And dwarfs the cost of a chimney fire! See information below.
Then you'll need the wood - and not just any old chipboard, either.
For wood supplies, seasoned timber is best. This can cost from £75 per cubic metre load for good quality, because new wood, or wet logs just don't burn so well!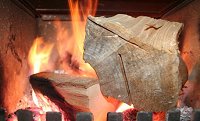 If you have dry space to store your wood, we recommend buying a larger load and saving money.
Donít buy cheap wood, or burn chipboard, plywood or painted wood - not a good idea. Also avoid burning soft woods like pine, conifers.
Top tip:
buy local wood, cut and seasoned properly and well in advance - see 'logs' link below.
Roaring Fires and Cosy Corners
Like an energy efficient alternative to a real log fire?
An open fire looks great and it creates a cosy feel but it definitely isnít the most cost effective way to heat your living room. In fact, up to 90% of the heat escapes up the chimney (National Fireplace Association). What a waste!
Your alternatives?
These can be up to 60% efficient, but stoves are 20% better at 80% plus they radiate warmth also.
Relatively new in the UK, these burn pellets made from timber waste, which is now more readily available. Initially the cost is high to buy but they are cheaper to run over time. These stoves include a hopper which holds up to two days worth of pellets, making them easy to control and run.
Can be effective, however you need to choose a balanced flue or flue less model, or a gas stove to benefit from 70%+ efficiency.
Keep your chimney safe! Regular checks and cleaning is essential to prevent chimney fires. The Wiltshire Fire and Rescue service reported 30 chimney fires in Swindon over the Christmas 2008 period, with 4 fires on Christmas Day.
If you have a wood burner you should get the chimney swept every
3 MONTHS
when in use and for other types of fires, a
YEARLY
sweep is sufficient.
Remember to stay warm safely this winter.
What's up yours?
Warning after 30 Swindon chimney fires over Christmas period - How to stay safe...

06 January 2009