Wine & Drink
Brian from Magnum Wine in Old Town hand-picks the ideal summer plonk, fizz and beer
Unless you're tea total, a BBQ means a cold beer, a chilled glass of wine and hopefully a friendly fizzy start.
Not that we're encouraging barbecue binge drinking here. Quite the contrary. But a little tipple here and there all helps to get the outdoor party started - and after savouring good food, keep it going!
BBQ Wine Buff of the Year
The thought of a beautifully balmy evening outdoors with good company, good food and a great glass of wine is most people's idea of heaven. It's certainly mine!

The great news is that whether you are a wine or beer person, a barbecue is not an event for airs and graces; it's one for enjoying what's on offer and complimenting the outdoor fayre with what ever you fancy or, more precisely, whatever's going!
There's no better way to get into the swing of outdoor life than a nice glass of
PIMMS
. Nothing could be more British or more summerly social than mixing up a refreshing jug of lemonade, fresh fruits, mint and the Pimms itself - especially if someone else is doing the cooking!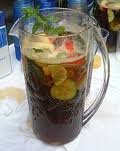 You will need:
A bottle of Pimms (of course!)
Ice
Lemonade
Lemons
A Cucumber
An Apple
Strawberries
Fresh mint
Recipe:
Add 1 part Pimms to 3 parts lemonade over ice
Add some sliced lemon, apple and cucumber to taste
Add some fresh mint
Serve in a tall glass (without an umbrella!)

If your barbecue is a celebration, then a bottle of the fizzy stuff is a must - and I'm not talking about champagne.
Yes, a glass of the premier cru is always a treat, but the world is abound with some excellent alternatives at the moment, and none better than a bottle of
CHANDON ARGENTINA
, which offers a fantastically fruity, clean, crisp taste that is exceptional value and perfect for small parties.
When The Food Starts Coming: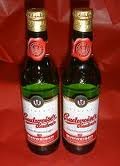 As long as the head chef hasn't started on the booze too early, the Pimms and Fizz should start to make way for a couple of nice glasses of wine once the food starts being served.
Alternatively, this will be a moment for many to start cracking open the beer, which no barbecue could possibly be without. My favourite here has to be the original Czechoslovakian
BUDWEISER
which has by far the cleanest taste, closely followed by
PERONI
and then the German lager,
VELTINS
. All three are superbly refreshing and great with fish, meat and salad.
Grilled Meats and Sausages:

Lets face it, barbecue food covered in sauce, with its smoky and spicy flavour is no time for getting out your best reds. Not that I've tried it, but I'm only guessing that the subtleties of a 1982 Chateau Lafite maybe somewhat lost as you tuck into your hotdog laced with tomato ketchup or charcoaled peppered steak!

For grilled meats and sausages, I would recommend two of my favourite new world reds -
AUSTRALIAN or SOUTH AFRICAN SHIRAZ
.
Both ooze some fantastic ripe and spicy flavours with the South African example being my summer banker.
Saying that, a nice
FRENCH COTES DU RHONE
should stand up to barbecue flavours as well as 'nice Chianti' also handling tomato-based sauces.

Grilled meats, like steak, can work with a wider range of reds, including young Cabernets. And burgers should be fine with just about any red wine - just pick your favorite.
For those who prefer their tipple a little lighter and are perhaps enjoying some grilled salmon, I would always like a bottle of
VALDIVIESO CABERNET ROSÉ
, which is great on the palette and full of summer fruit flavours.
On the white side, there is nothing better than a glass of
SAUVIGNON BLANC
for a crisp and lively taste with a hint of gooseberry and, of course, the
NEW WORLD RIESLINGS
from Australia and New Zealand (not Germany!) that have a superb balance of tropical fruit and lime fresh acidity.
And for those who want to make their barbeque a very English affair, you can't go wrong with a chilled bottle of
COMBE HAY
from their nearby Bath vineyard. Light and fresh with a crisp finish, I can't recommend it highly enough.
DFY BBQ
That's DONE FOR YOU! And these are the people in Swindonwho who can do it - TOP TIP...

BBQ Food
Some simple sizzling ideas and recipes from Swindon's Mr Sausage, Andy Crump...

Safety Tips
Flash fires and tipsy chefs can lead to all sorts of problems, not to mention underdone chicken drumsticks!...

Which BBQ?
Gas, Hibachi or Kettle? And why late summer is the best time to grab a barby bargain!...