Golf in Swindon
With SwindonWeb's PGA Professional Phil Poulton


Welcome to the SwindonWeb guide to golf in Swindon.

Now, I am not going to pretend that Swindon is the golfing Mecca of the South or that it has golf courses to rival Wentworth, Sunningdale or The Oxfordshire, but Swindon does offer probably the best selection of golf courses to suit all standards of player.
Right from the absolute beginner to the tour professional, Swindon has a golf course for you and the facilities have produced some of the best players in the country; most notably, Ryder Cup star and 2006 PGA Champion David Howell and Martin Sell, 2002 Amateur Championship runner-up.

They both learnt how to play the beautiful game playing the courses around Swindon and are a credit to the golfing facilities the town has to offer.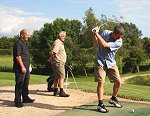 You don't need to be Tiger Woods to enjoy a fun game of golf in and around Swindon.

There are three great pitch and putt courses to try - one at Coate Water, and two in Highworth, plus two ideal 9-hole courses - at Moredon and Faringdon - of just the right length to be enjoyed by anyone having a go for the first time. All of which offer club hire as well.
Driving ranges
You don't actually have to step on a golf course to get in the swing of things, because with three covered driving ranges - Broome Manor, Wrag Barn and Bassett Down - it's easy to grab a club and hit off a hundred balls without fear of embarrassing yourself.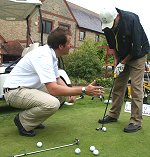 As a PGA Pro I'd always recommend having a golf lesson if you fancy trying golf. Just getting the grip right and being taught how to stand to the ball can make a massive difference in how you well you can hit it - and, most importantly, the best way to quickly build up your confidence.
All 18 hole and 9 hole golf courses in Swindon have a resident PGA Professional attached.
But first, a quick lesson on how to improve the most important part of your golf game - putting.

Although putting is never as exciting as swinging a golf club and trying to hit a golf ball as far as you can - I know, I've been there - putting is equally important if you want to score as low as you can and become a better player - no matter your standard.
So, if next time you're on the putting green and you want to avoid missing those apparently easy 3 foot putts, try to follow these three simple rules and watch your scores tumble.
1. Line up your putter and the manufacturer's name on the ball straight at the hole

Putting is 50% confidence. And to be confident that you are aiming straight at the hole on short putts, squat down and line the manufacturer's name on the ball straight at the hole (pictured, left) - and then line your putter in line with that.

2. Take the putter away slowly and on line

Using a ruler to illustrate my point (pictured, left) I have taken the putter away slowly, low to the ground and on-line - very important for short putts. And remember - unless you want to hit the ball way past the hole, don't take the putter too far back.
3. Follow through towards the hole

Don't simply rap the ball towards the hole - stroke it - and make sure the putter follows through towards the hole - the real secret of good putting.
Always try to swing the putter smoothly and
always accelerate the putter through the ball.
Oh yes, and finally - practice makes perfect! The living room carpet makes an excellent practice green!
What a shot!!!
Gong-ho David Howell enjoys the luck of the Irish in golf challenge - WATCH VIDEO...

16 August 2010