Wembley, here we come... again?
Looking back at Swindon Town's three Wembley triumphs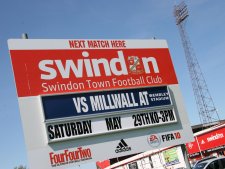 Swindon's only Wembley loss:
Town were until 29 May 2010 one of the few League clubs to boast an unbeaten record at Wembley.
But Millwall stopped all that with an agonising 1-0 win in the League One play-off final - a far cry from beating Arsenal 3-1 (after extra time) to lift the League Cup in 1969, winning 1-0 against Sunderland in the Division Two play-off in 1990, then 4-3 against Leicester City in an epic Division One play-off in 1993.
All wins we'd like to say at the
'old'
Wembley. And here's a reminder.
Date:
Saturday, March 15, 1969
Manager Danny Williams had alredy led his Third Division team to several giant-killing acts on the way to this final, overcoming Torquay United, Bradford City, Blackburn Rovers, Coventry City, Derby County and Burnley.
Don Rogers had already made a big enough name for himself as a talented winger for Arsenal to be fully aware of his potential as a matchwinner. But could they stop him?
Downsborough, Thomas, Trollope, Butler, Burrows, Harland, Heath, Smart, Smith (Penman), Noble, Rogers.
Wilson, Storey, McNab, McLintock, Ure, Simpson (Graham), Radford, Sammels, Court, Gould, Armstrong.
It finished 1-1 after 90 minutes, but Town won 3-1 after extra time.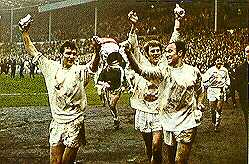 the Town players parade the trophy
The goals:
35 minutes: a comical mix-up in the Arsenal defence between keeper Bob Wilson and experienced Scottish international Ian Ure allows Roger Smart to bundle the ball into the next (1-0).
86 minutes: Arsenal's pressure finally pays off as Town goalkeeper Peter Downsborough's attempted clearance hits Bobby Gould and loops in the air. Gould gets underneath it to head into an empty net and send the game into extra time (1-1).
104 minutes: at the end of a goalmouth scramble following a corner, Don Rogers pulls the ball down and scores from close range – almost in one movement (2-1).
109 minutes: Rogers runs on to a through ball and travels half the length of the pitch before coolly rounding Wilson and sliding the ball into the net (3-1).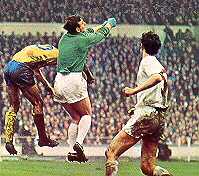 our joint-hero with Rogers

Town's hero on the day:
Rogers is the obvious choice, but Downsborough made a string of defiant saves in the face of fierce Arsenal pressure and must share the honour.
Town finished second in the old Third Division at the end of the season to win promotion to the second tier of British football for only the second time in their history.
They followed up their success with more silverware – the Anglo-Italian Cup Winners Cup (against AS Roma) in the summer of 1969 and the inaugural Anglo-Italian Cup (beating Napoli in the final) in 1970.
Rogers never did get his deserved England cap, but the scale of Town's victory over Arsenal was underlined in 1971 when the Londoners became only the second post-War team to do the League and Cup double.
Date:
Monday, May 28, 1990
Against:
Sunderland
At stake:
In theory, a season in the top tier of the Football League (then still called the First Division)
New manager Ossie Ardiles and his team just got on with the football, amid accusations and rumours of dodgy financial dealings.
They produced a brand of 'samba soccer' that not only won them admirers throughout football but propelled them into an unexpected fourth position in the table.
Home and away play-off semi-final victories over Blackburn Rovers earned them a trip to Wembley.
Digby, Kerslake, Bodin, McLoughlin, Calderwood,
 Gittens, Jones, Shearer, White, MacLaren, Foley.
Norman, Kay, Agboola, Bennett, MacPhail, Owers, 
Bracewell, Armstrong, Gates (Hauser), Gabbiadini, Pascoe (Atkinson).
Town hammered them 1-0.

26 minutes: it takes a heavy deflection of Alan McLoughlin's speculative 25-yard shot to divide the teams, but the goal was no more than the Town deserved after dominating the match and conjuring up a string of near misses (1-0).
Alan McLoughlin
Ten days later, the financial scandal that had hung like a cloud over the club all season was punished. Town were demoted two divisions, although this was subsequently reduced to one division after an appeal.
But the club, the players and, most importantly, innocent fans, who thought they had seen their team clinch top division football for the first time in its history, had been made to pay a very heavy price for apparently mild infringements of the rules, which look even more mild in hindsight, and were proved to be far from unique.
WATCH VIDEO
Swindon Town 1 Sunderland 0
Second Division Play-Off Final
Swindon Town demoted two divisions
Date:
Monday, May 31, 1993
Against:
Leicester City
At stake:
Top division football (now called the Premiership) after all
Three years after the Football League's demotion debacle, Town were putting on the style again, this time under the spell of rookie player manager Glenn Hoddle.
By the time they overcame Tranmere Rovers over two epic play-off semi-final legs, Hoddle had built a team that oozed quality but didn't lack endeavour, and was led by example by the most skillful player ever to wear the red shirt.
Digby, Summerbee, Bodin, Hoddle, Calderwood,
 Taylor, Moncur (Hazard), MacLaren, Mitchell, Ling, Maskell (White).

Poole, Mills, Whitlow, Smith, Walsh, Hill, Oldfield,
Thompson, Joachim, Agnew, Philpott.
Result:
Town won a rollercoaster game 4-3.
42 minutes: it's Hoddle himself, characteristically passing the ball into the next to round off a typically fluent Town move (1-0).
47 minutes: Craig Maskell's precise shot goes in off the post (2-0). 53 minutes: just when it seemed that life couldn't get any better, Shaun Taylor beats the keeper to the ball to head Town into what must be an unassailable lead (3-0).
57 minutes: suspicions of a foul on Town keeper Fraser Digby are overlooked as Julian Joachim pulls one back (3-1).
68 minutes: Steve Walsh races through and finishes coolly to put Leicester within reach of an unlikely but now strangely inevitable equaliser (3-2).
69 minutes: the equaliser isn't long in coming and Leicester's comeback is complete as Steve Thompson bundles the ball home (3-3).
84 minutes: substitute Steve White takes a controversial tumble in the box and, with many Town fans unable to watch, Paul Bodin somehow stays calm enough to score from the penalty spot and give the game its final twist (4-3).
Paul Bodin, who was the coolest man in the stadium when he took the penalty that finally killed off never-say-die Leicester.
Despite their flair, Town were ill-equipped for their season in the Premiership – a fact that Hoddle seemed to anticipate as he accepted a job at Chelsea before the Wembley cheers had died down.
His former assistant, John Gorman, was left to oversee what eventually became a painful year of sometimes heavy defeats in the promised land, with just a few silver linings.
Swindon Town 4 Leicester City 3
Division One Play-Off Final
Thanks to Paul Plowman and his fantastic Swindon Town history site for posting these clips on YouTube.

Swindon 0 Millwall 1
Fans' agony, Austin in tears and FITTON FURIOUS - it's no Wembley dream for Town...

29 May 2010

Swindon 4 Arsenal 3
Giantkillers again. We chronicle Swindon's greatest night at the County Ground - incl. SWTV INTERVIEW WITH ANDY ROWLAND + WATCH TOWN GOALS...

A Day to Remember
50 YEARS AGO!Memories of Swindon Town's greatest day - the 1969 League Cup Final - 15 MARCH 1969 - WATCH VIDEOS