Millwall 3 Swindon 2
Coca-Cola League One
RESULT: Millwall 3 Swindon Town 2
Swindon scorers: Ward 3, Paynter 85
Millwall scorers: Morison 2 (pen) 14, 73; Greer OG 62
Swindon will face Charlton Athletic in the play-off semi-finals after briefly dreaming of automatic promotion.
The first-leg will take place at the County Ground on Friday 14 May (and shown live on Sky Sports), with the return leg at the Valley on Monday the 17th.
Swindon's fate decided after Leeds came from behind to defeat Bristol Rovers to deny both Millwall and Town their chance.
Knowing only a win would be good enough, Swindon stunned their promotion-chasing rivals after only three minutes when Danny Ward sweetly fired home from 15 yards out.
A goal that for 14 minutes had Swindon in the all-important second place before Millwall recovered their composure to draw level from the penalty spot following a foul by Jonathan Douglas.
And when Gordon Greer sliced into his own net just after the hour (and Leeds went ahead), Swindon's travelling contigent knew it wasn't going to be their day.
Disappointment doubled when Morison made it 3-1 before Paynter pulled one back with his 29th of the season.
The final League One table:
1 Norwich 46 42 95 [P]
2 Leeds United 46 33 86 [P]
-------------------------
3 Millwall 46 32 85
4 Charlton 46 23 84
5 Swindon 46 16 82
6 Huddersfield 46 26 80
Play-off semi-final fixtures:
League One Play-Off Semi-Final First Leg
Friday 14 May 2010
League One Play-Off Semi-Final Second Leg
Monday 17 May 2010
Tickets go on sale for season ticket holders tomorrow [Sunday]. Ticket info available via STFC link below.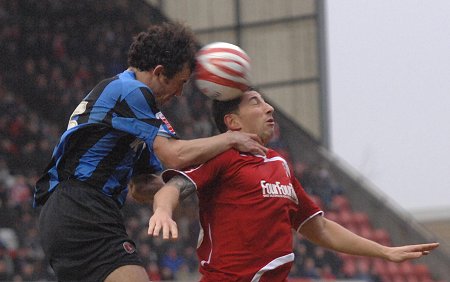 it was Swindon 1 Charlton 1 the last time the two teams
met at the County Ground in February
Swindon 0 Millwall 1
Fans' agony, Austin in tears and FITTON FURIOUS - it's no Wembley dream for Town...

29 May 2010

Swindon 2 Charlton 1
Austin and Ward give Town the advantage - WATCH SWTV FANS' VIEW + MATCH PHOTOS...

Leeds 0 Swindon 3
Top two for Town as Paynter and Austin stun Leeds again...

03 April 2010

Swindon 1 Norwich 1
Last-gasp Greer caps brilliant week for Town - SWTV FANS' VIEW + MATCH PHOTOS....

Brighton 0 Swindon 1
Austin steps up to give Town back their confidence despite first-half injuries...

13 March 2010

Orient 0 Swindon 0
Wilson settles for a point despite call for late penalty...

27 February 2010

Swindon 2 Carlisle 0
Paynter & Austin on target again but late Greer injury a worry - MATCH PHOTOS...

20 February 2010

Austin signs
Star striker commits to two-year deal at Town...

02 February 2010

Swindon 3 Leeds 0
Onwards and upwards, Town stun the League leaders - WATCH SWTV FANS' VIEW

Pericard signs
Swindon make their first major signing in the transfer window...

14 January 2010

Fulham 1 Swindon 0
Zamora the difference as Premiership quality proves too much...

02 January 2010

Charlton 2 Swindon 2
Town players gutted as nine-man Charlton score at the death...

26 December 2009

Swindon 1 Woking 0
No shock as Paynter sends Town into the second round...

07 November 2009

Brentford 2 Swindon 3
New striking line-up reaps rewards as Town hang on in a thriller...

03 October 2009

Walsall 1 Swindon 1
Paynter penalty saves a point as unbeaten run extends to nine...

19 September 2009

Swindon 2 Southend 1
Town's good form continues as they take all 3 points this Bank Holiday...

29 August 2009

Oldham 2 Swindon 2
Last second equaliser denies Town after frantic finish...

22 August 2009