Date added: 15 December 2007
Looking bleak
Town stumble again as fans protest over takeover farce

Coca Cola League One

RESULT: Swindon Town 0 Brighton 3

Brighton scorers: Forster 3, Robinson 45, Hammond 73

Just when Town fans think it can't get any worse - it does.
Another thoroughly depressing defeat - Town's third in a row since Sturrock departed - plus news that potential club saviour Andrew Fitton has 'lost patience' once again with the Town board.
The game itself was undoubtably the worst performance that home fans have witnessed for a long while.
Swindon found themselves 1-0 down with just three minutes on the clock as Nicky Forster smashed the ball into the net following some dreadful defending from Chris Blackburn.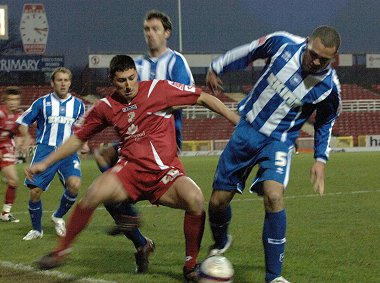 Billy Paynter fights for the ball
A lack spirit and threat from his players pushed manager Dave Byrne to change things before half-time as the ineffective Kaid Mohammed was replaced by Jon-Paul McGovern.
However, this substitution was unable to stop the rot and Brighton doubled their lead just before the break as Jake Robinson curled the ball into the top corner.
The hard working Blair Sturrock was replaced by Billy Paynter at half-time as Byrne and Williams tried to motivate their lacklustre team.
The second-half did prove to be more entertaining than the first but the home team still failed to trouble the Brighton goal.
The game was sewn up by Dean Hammond on 73 minutes as he ghousted past the struggling Hasney Aljofree and smashed the ball into the roof of the net.
This proved to be the final nail in the coffin for many Town fans as they headed towards the exits and a chorous of 'booooo's' rang round the County Ground stands.
Once the final whistle had blown supporter's attentions were quickly drawn to news of the protracted take-over of the club - and the possibility that negotiations had once again hit a snag.
Rumours of a wrongly addressed email to the Ramsbury-based businessman containing the Swindon shareholder's answer to his takeover terms, adding further to fans' frustration.
"It's a truly farcical situation," said one season-ticket holder, who walked out ten minutes before the finish.
"And I for one won't be coming back until things get sorted."
With talks ongoing at the County Ground after the game, all Swindon fans will be praying that the complications can be ironed out and the club can be saved.
The League One table:
1 Swansea 19 17 37
2 Carlisle 19 16 36
--------------------
3 Nottm Forest 19 19 34
4 Leyton Orient 20 0 34
5 Leeds 20 25 33
6 Southend 20 3 32
--------------------
7 Brighton 20 6 30
8 Walsall 20 3 29
9 Doncaster 19 6 28
10 Tranmere 20 4 28
11 Yeovil 19 -1 28
12 Hartlepool20327
13 Huddersfield 20 -14 26
14 Oldham 19 1 24
15 Crewe 20 -8 24
16 Swindon 19 0 23
17 Gillingham 20 -15 22
18 Northampton 20 -7 21
19 Bristol Rovers 18 -6 19
20 Millwall 19 -10 19
-------------------
21 Cheltenham 19 -12 18
22 Port Vale 20 -13 16
23 Bournemouth 20 -15 16
24 Luton 19 -2 13
NEXT GAME:
Saturday 22 December 2007, 3:00pm
Coca-Cola League One

Swindon Town 0 Brighton 3 - 15/12/2007