Date added: 04 December 2008
Who's the next Town manager?
It's the big question on every Town fan's mind - just who is going to be the next Swindon manager?
Will it be Poyet? Shearer, perhaps? Stuart Pearce? Bryan Robson? Laurie Sanchez? Or could it be Colin Calderwood? Even Roy Keane's now available.
There's only one man who knows - and Andrew Fitton, the Town chairman, isn't telling anyone.
Win STFC Hospitality with Arkell's brewery
But if you think you know who it is, then you 've got a chance to win two free hospitality tickets for an STFC game in 2009, courtesy of Arkell's Brewery.
Just choose from the list below...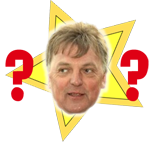 Just who's fit for Fitton?
A.

Stuart Pearce

B.

Gus Poyet
C.

Colin Calderwood

D.

Alan Shearer
E.

Dave Byrne

F.

Laurie Sanchez
G.

Martin Keown

H.

Roy Keane
I.

Chris Piper (landlord of The Kings Arms)

J.

Bryan Robson
K.

Ruud Gullit

L.

None of these mentioned...

You tell us
Just pop your guess in the box below
All those who choose the right man will be put in the draw.
The winner will be contacted after the new manager has been revealed at the official STFC press conference
(and if it is Chris Piper, the man himself has agreed to give away drinks on the house every night at The Kings for the whole of 2009)

Terms and conditions apply
History repeating?
Is Ken Bates about to nick Wilson from under Town's nose?...

23 December 2008

Christmas crisis
Managerless Town in turmoil after losing relegation six-pointer - WATCH FANS' VIEW...