Date added: 17 December 2008
Down to two
But could Calderwood's back-room demands let in Money?
Unless Andrew Fitton does a 'Malpas' (ie) unveils a shock choice of manager no one has heard of, it'll be either Colin Calderwood or Richard Money in charge of Swindon next week.
Those are the final two names that appear to be in the hat for the County Ground job, as the five-week search for a new Town boss finally nears its conclusion.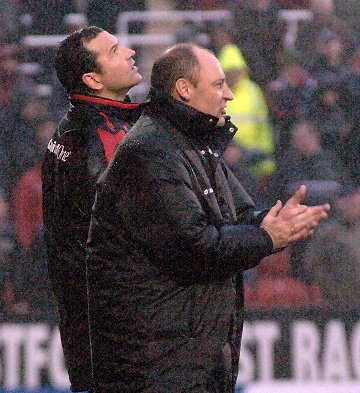 is Colin Calderwood the man
to replace Maurice Malpas, or will compensation
and back-room demands scupper the deal?
It is only the question of compensation - and back-room staff - that sources claim will decide who gets the nod.
Calderwood is still under contract at Nottingham Forest, as is Money at Newcastle United.
Calderwood apparently is keen to bring in his own coaching staff should he be offered the job - leaving Dave Byrne (who Fitton has always supported) and others possibly facing the exit door.
Depending on this evening's negiotiations, an official STFC annoucement may be made as early as tomorrow [Thursday] morning.