Date added: 04 November 2008
Cox won't be leaving!
Simon wins PFA League one player of the month – but Maurice says 'over my dead body' will the striker be leaving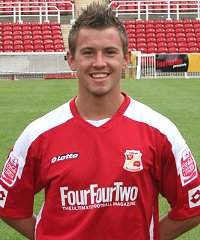 Swindon boss Maurice Malpas stated that it will be 'over my dead body' that Simon Cox will be leaving.

With concerns amongst fans that the striker will now be attracting attention of bigger clubs, the Town manager was keen to brush the rumours away by stating: 'bring it on' to any interest.

"If Coxy keeps scoring goals it's obviously good for us, I'd rather Coxy be banging the goals in than not – we've started winning games when he scores the goals so we'll deal with anyone who enquires.

"Trust me Coxy won't be leaving here easily, it will be over my dead body if he goes.

"I can't see it happening. One, why would I want to disrupt the team, and two, the chairman assures me that I don't have to go selling players like that."

Winner of the PFA League One Player of the month

It was announced today that Simon Cox has won the PFA League One player of the month award.

Scoring 15 goals this season - including two away hat-tricks - the striker said he was delighted with the result.

"We've now gone three games unbeaten, which is great as this was the main objection for the team, now we're concentrating on moving up the league.

"Obviously if I score goals it's an accolade for me. I'm happy to keep scoring if it means the team gets results, so I'm really happy to be handed an award like this."