Date added: 09 October 2008
No Changes for Saturday
Maurice Malpas has belief in the team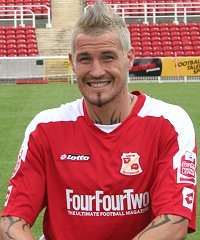 Lee Peacock is all set to play
in midfield this Saturday
against Huddersfield
'It would be silly to make changes to the team' was the message from Swindon Town manager Maurice Malpas in today's press conference.
"We dominated and controlled the second-half of the game on Tuesday night against Hereford, and now it's time to put this belief to the County Ground."
With Tuesday's win in the Johnstone's Paint Trophy being the first success for Swindon in a month, the Robins' boss was keen to insist his players are in the best frame of mind for Saturday's home match against Huddersfield.
"We trained on the pitch this morning and the boys were bright and buzzing.
"We have told the team to forget there is a crowd in the stands and believe they're just at training - which will hopefully get us a result."
We need consistency
"It's important to get consistency now – once we get consistency in the team it will show in the results - it's about finding something that works.
"At the moment we've got it right away from home so we're going to try this team on Saturday against Huddersfield to see if we get a successful result."
Forget about the fans
"We have to ask the crowds to be patient – we know it's up to us to get the crowd off their feet – but we have to remember sometimes you've got to get through the bad to get to the good."
"We do tend to shoot ourselves in the foot and make mistakes early on - which gives the fans something to be critical about - but its important now to get the players to keep their cool and overcome the mistakes without losing confidence."