Home Hoodoo
'I'll do anything to get a result at the County Ground' says Town boss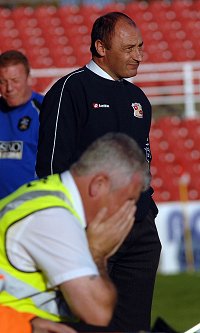 Swindon manager Maurice Malpas has said he will go to any lengths to end Swindon's home hoodoo - including putting the players up in a hotel on Monday night.
"Our away form is good, and we need to recreate that mindset at the County Ground.
"So, we've been thinking of making the players stay in a hotel the night before Tuesday's game and then driving them about the town to kid themselves that they're playing away!
"Trust me, we're doing everything we can to change results at home," he insisted.
Town take on Southend away on Saturday before playing Northampton at home on Tuesday night.