Date added: 25 October 2008
Swindon 2 Oldham 0
STFC Update: Sunday 26 October 2008 1.25pm
Town draw non-League opposition in FA Cup
Swindon have been drawn away to either Durham City or Histon in the first round of the FA Cup.
The tie will be played on Saturday 08 November.
Two in a row for Town at home
Coca-Cola League One
RESULT: Swindon Town 2 Oldham Athletic 0
Town scorers: Morrison 25, Jack Smith (pen) 33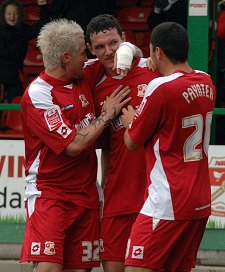 goalscorer Morrison is congratulated
by Lee Peacock and Billy Paynter
A sublime finish by Swindon 17-year-old Sean Morrison set Town up for their second home win in a week this afternoon.
A goal that couldn't have come at a better time after Oldham had dominated the game early on and should have been ahead.
But spirited defending by captain Hasnee Aljofree and some excellent covering work by Peacock and Pook in midfield kept the visitors at bay.
And after sneaking the opener - then doubling their lead from the spot eight minutes later, Swindon never looked troubled.
"We showed huge commitment to keeping our first clean sheet out there," a delighted Maurice Malpas commented, "and we deserved it."
Town rise to 15th after the win.
League One table:
1 Scunthorpe 13 14 29
2 Leeds 13 9 26
----------------------
3 Millwall 13 6 26
4 Leicester 12 12 25
5 MK Dons 13 10 22
6 Peterborough 13 9 22
----------------------
7 Oldham 13 8 22
8 Tranmere 13 3 22
9 Stockport 13 4 21
10 Southend 13 0 21
11 Bristol Rovers 14 6 20
12 Hartlepool 13 4 20
13 Walsall 13 0 18
14 Northampton 13 2 17
15 Swindon 13 -4 15
16 Colchester 13 -2 14
17 Carlisle 13 -6 14
18 Brighton 13 -4 13
19 Huddersfield 13 -7 13
20 Yeovil 12 -10 11
---------------------
21 Cheltenham 14 -17 11
22 Leyton Orient 13 -11 10
23 Hereford 13 -12 9
24 Crewe 13 -14 8
NEXT TWO GAMES:
Walsall (A)
Tuesday 28 October 2008 7:45pm
Coca-Cola League One
Scunthorpe (A)
Saturday 01 November 2008 3:00pm
Coca-Cola League One

STFC v Oldham - 25/10/2008