Date added: 04 September 2008
Every game must count
Malpas: "It's not all glamour games"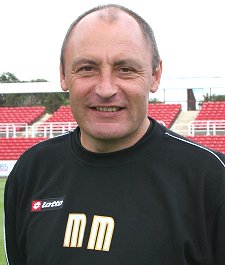 Maurice Malpas is urging players
to remember that every point is vital, as Town prepare for an away fixture against Hereford United tomorrow night.
"Players need to stand up and be counted," he told us.
"We've had two wins away and we've got to keep on improving."
And while the League One table starts to take shape, there's only one thing on Malpas' mind.

"We can only get three points against Hereford and three against Leeds, so it doesn't matter who we play – we need to get points.
"If they want to play in a glamour game like Leeds, they need to put in a decent performance against Hereford."
Midfielder Craig Easton said: "It's all about confidence. We've got some big games coming up, and we've worked really hard so hopefully we'll get a performance to match it.

"We can't take anything for granted now."
With skipper Hasney Aljofree back to full health, he's set to lead the squad out.
Specialists treating Jamie Vincent's ankle injury have ruled him out, whilst there is doubt over whether Lee Peacock will be recovered from a dead leg.