Date added: 18 September 2008
More leadership needed
Malpas looks for strength of character as Town head to Stockport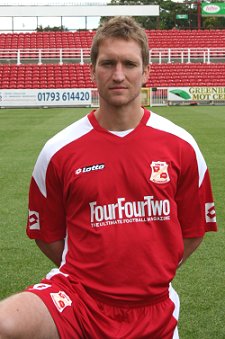 Jamie Vincent is still suffering from
an injured knee
"The talking must be done on the pitch" was the defiant message from Swindon Town manager Maurice Malpas at today's press conference.
As he looked forward to Saturday's away game at Stockport - and back at last weekend's defeat against Leeds - it was the important subject of leadership that dominated his thoughts.
"We need to see more leadership in the team as a whole," he said.

"Some say it should come from the Captain, but it needs to be seen from the rest of the team."
"Looking back at the tape from the weekend you can see everyone's shoulders go down after the second goal - even in the dug out - but we have to overcome this - especailly on the pitch if we want to see results."
"We have missed players like Jamie Vincent who offer this strength of character when the game isn't going to plan."
"Jamie went and saw a specialist last night and it looks like it could be a possible tear in the cartilage which could mean having key-hole surgery.
"Best case scenario would mean he is out for another 6 weeks."
"We look better away from home, than at home - but we need to pick up points."
"So far we have managed to do this - but we have to come away from Stockport with a win.
"They are a young team - but we have to take our away game up there and make it difficult for them."
"We have to work our tails off and try and come away with three points."