Date added: 26 September 2008
Robbo Retires
Fans favourite forced to leave STFC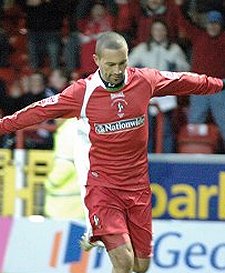 Swindon Town star Christian Roberts has been forced to retire from an 11-year footballing career, after extensive operations could not fix a recurring knee injury.
The 28-year-old Welshman joined the Robins in 2005 from Bristol City, making a real name for himself with the fans when he scored on his debut against Oldham.
But after a summer plagued by a microfracture of his right knee, Christian officially terminated his contract at SN1 yesterday.
Fans and teammates will be sad to see him go.
Making a total of 126 appearances for the Robins and scoring 27 goals, Robbo has played a significant part in the Swindon squad.
And more importantly he was there to help Town achieve League One promotion in 2007, after 45 appearances and 13 goals during the 06/07 season.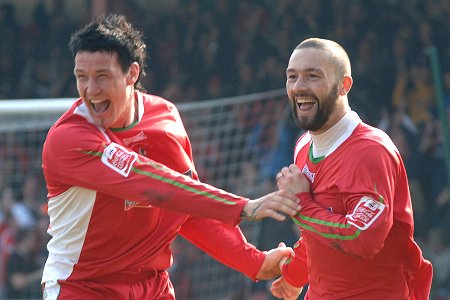 Christian Roberts celebrates with Lee Peacock,
after scoring against Shrewsbury during the 06/07 season
But it wasn't just the fans who had a soft spot for our Robbo - even Radio 1's 'big dog' hip-hop DJ Tim Westwood gave him a mention when he visited Swindon earlier this year.
Click on the link below to watch clip!...
If you want to say a final goodbye to the winger, he'll be making an appearance at Town's home game against Millwall on Sunday.
Anti-Bullying Week
Students tackle cyber-bullying for national campaign...

16 November 2009