Date added: 01 October 2008
Town boss responds to fans' frustration
Malpas looks ahead to Friday's game to ease pressure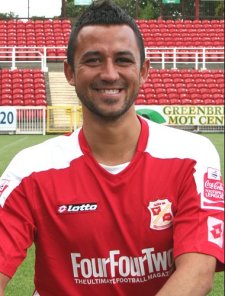 Swindon skipper will miss Hartlepool
'We've got to stand up and be counted,' was the overall message from Swindon Town manager Maurice Malpas in today's press conference.
With Sunday's defeat against Millwall still fresh in the memory, the Robins boss was keen to answer the fans' frustration angled at him after they witnessed Swindon's fourth consecutive home loss.
"We have to forget about criticism," Maurice added, "you're always going to be criticised - it's about getting the team to have the right mindset now and turning it around."
"I'm not feeling the pressure. I understand the fans frustration but I have been speaking to the chairman and I don't feel I have pressure in my job, the only pressure is the pressure I'm putting on myself."
Hartlepool
"We're going to go and play how we have been playing away from home. We need to go and score goals – as we want to come away with the win."
"We need to get a victory to pick up the spirits of the team."
Hasney won't travel
It was also confirmed that team captain Hasney Aljofree will be missing the trip to Hartlepool due to a viral affection.
"Hasney has been ruled out for the away game to Hartlepool. It's better to leave him out rather than risk the rest of the team catching an infection."