Date added: 09 August 2008
Dream start!
Town get 2008/09 season off to a flyer
RESULT: Swindon Town 3 Tranmere 1
Swindon scorers: B Paynter 4, S Cox 35, JP McGovern 51
Tranmere scorer: B Savage 85
Town got off to the perfect start with two goals in the first half - then wrapped up the game before the hour.
A confident Billy Paynter heading the first after only four minutes, following a flawless build-up and a pinpoint cross from JP McGovern.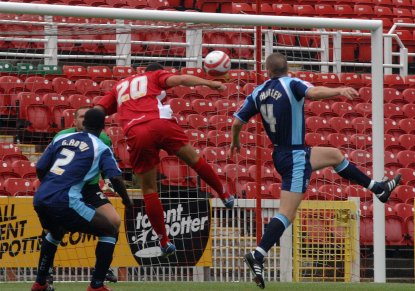 Billy Paynter opens his account for the season
Anthony McNamee was the main tormentor with his trickery and skill causing havoc down the Tranmere left hand side.
Hard work that allowed Simon Cox the space to drill home the second on 35 minutes - and McGovern to smash home Town's third goal just after the break.
Despite a late consolation from Baz Savage the Town fans delight was all too evident.
"That was a fantastic start," a jubilant Maurice Malpas told SwindonWebTV after the game.
"I thought the front two were excellent today and I'm very happy that they both got their goal," added the boss.
SwindonWeb Man of the Match: Michael Timlin


The League One Table
1 Hartlepool 1 2 3
2 Northampton 1 2 3
--------------------------
3 Swindon 1 2 3
4 Leicester 1 2 3
5 Oldham 1 1 3
6 Carlisle 1 1 3
---------------------------
7 Brighton 1 1 3
8 Leeds 1 1 3
9 Leyton Orient 1 1 3
10 Southend 1 1 3
11 Huddersfield 1 0 1
12 Stockport 1 0 1
13 Walsall 1 0 1
14 Yeovil 1 0 1
15 Millwall 1 -1 0
16 Bristol Rovers 1 -1 0
17 Crewe 1 -1 0
18 Hereford 1 -1 0
19 Scunthorpe 1 -1 0
20 Peterborough 1 -1 0
-----------------------------
21 Cheltenham 1 -2 0
22 Colchester 1 -2 0
23 Tranmere 1 -2 0
24 Milton Keynes Dons 1 -2 0
STFC v Tranmere Match Gallery
NEXT TWO GAMES:

Tuesday 12 August 2008, 7.45pm
Saturday 16 August 2008, 3.00pm