Date added: 01 July 2008
Pre-season pleasure
Malpas enjoys having the boot on the other foot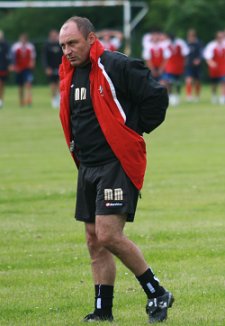 Malpas is making sure the Town
boys work hard this pre-season
Maurice Malpas has until this weekend to decide which 20 players he'll be taking to pre-season training in Austria next week.
And after years of pre-season 'hell' himself, the Town boss admitted today that he's quite enjoying putting the boys through their paces.
"The players have come back in good nick.
"They had a hard time on Saturday morning and yesterday we gave them a marked run - now they've got a couple of days to rest before Austria.
"I'd be concerned if players said they weren't struggling. It's a case of applying themselves."
Malpas also told us he's been impressed with the improvements made by Barry Corr, who spent a lot of last season on the bench due to a recurring shoulder injury.
"His fitness is really good, I can tell he's been working very hard."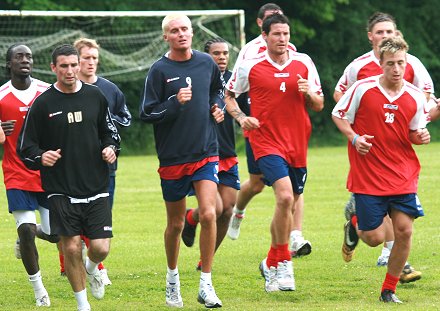 Barry's fitness had him leading the pack at Town's
first pre-season training session on Friday
And as the final pre-season preparations are put in to place, Malpas has three main points to focus on in Austria.
"Fitness, team spirit, and organisation," was the Town boss' simple message.
"We have got some tough matches planned against the likes of Steaua Bucharest, but it doesn't matter who you're playing against as long as the boys work together.
"They are all training hard to gain their fitness, and team spirit will take them a long way."
STFC get pampered!
Town have an afternoon off while Malpas prepares for Austria...

08 July 2008