Date added: 11 July 2008
SwindonWeb road trip to Austria!
See what we got up to when we followed STFC on tour


SwindonWeb are taking 'out and about' to another level this weekend - with a road trip to Austria!
As Swindon Town embarked on their annual pre-season trip earlier this week, we convinced the boss there was no time like the present to whip out the passports (and the company credit card).
But instead of just hopping on a plane, we thought we'd go the extra mile - well, 900 to be precise! - and drive the 15 hours from Swindon to Kaprun, in support of our favourite boys.
The only problem was, we weren't quite sure of the logistics.
Ok, so we didn't have a clue.
And with the SwindonWeb minis vowing never to leave their favourite town, it turned out we didn't have a car either.
That was until the lovely people at Mercedes Benz decided to give us a brand spanking new CLC Coupe (in STFC red of course) to drive over there.
So with the Merc fuelled up and ready to go, all we had to do was grab the equipment and chuck some clothes in a bag.
And the whole point of re-enacting a modern-day Thelma and Louise (minus the drop off a cliff)?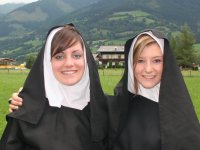 Outfits courtesy of Giggles
To bring you the best video coverage, photos and daily blogs of their pre-season training - including a mouth-watering clash against Turkish giants Fenerbahce on Saturday.
So don't forget to keep clicking back for all the latest news...
Auf Wiedersehen!
Unbelievably, that's the question we've been asking for the past
16 hours!
Since leaving SwindonWeb Towers at 9pm last night, us SwindonWeb girls - ok, and James - have been on our way to Austria.
But not without a few hiccups on the way!
Before we'd even reached the ferry, we managed to get ourselves confused at the petrol pumps - with the bonnet being lifted, engine still running and that all-important question playing on our minds - did he say petrol or diesel?!
With a little help from James (dare we admit it), we managed to get back on the road - arriving at the port just before 1am.
Two cups of tea, one mug of hot chocolate, and copious amounts of Red Bull later - we finally boarded the ferry at 2.45am.
And after arguing the whole way about who would get to sit in the back of the car and snooze their way to Austria, we managed to find some common ground and slept through our entire seafaring adventure.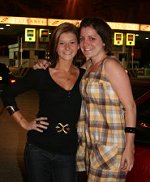 5.15am (local time) - James was clearly relieved to be steering the car off the ferry as Kirsty and I nodded off.
And although he was obviously pleased to set off on dry land, I think he was probably more relieved that our snoring meant we couldn't complete our aim - to sing Girls Aloud's "I Can't Speak French" as we touched down on the other side of the Channel.
(Oh well, we'll catch him out on the way home.)
We took our passion for SwindonWeb to a whole new level when we excitedly spotted a road sign for Calais (should I mention now that it was in the middle of a busy motorway?), running in to the road to get "the money shot" of ourselves draped on it - and failing miserably.
So next time we tell the Boss we'd give our lives for SwindonWeb, we'll remind him of this!
Our Wurst experience yet!...
The thought of driving a brand new Merc across miles of Autobahn was an exciting thought - but when Kirsty slipped behind the wheel in Germany, we knew we were heading for trouble.
Within 20 minutes we'd been pulled over by the police - and as I tried my best to convert faltering German in to a full-blown conversation with a curt German policeman, we thought it would be game over.
But after scrutinising our documents and passports, he gave us that universal sign to say "on your way" with a little wave of the hand.
Football? What football?!...
3pm - as I type this in an internet café in Stuttgart (incase you
didn't know, that's still in Germany) I start to wonder whether we will ever get to see Swindon Town.
But with TomTom telling us every five minutes that we've only got four hours until we reach them, we're remaining hopeful!
So tune in tomorrow to see just how relieved we are, if and when we ever reach Kaprun - and BED!
Over and out...
The hills are alive with the sound of... SwindonWeb!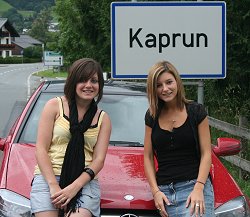 we finally arrive in Kaprun -
24 hours
after leaving Swindon
This time yesterday we were contemplating making a U-turn and coming back to Swindon.
But as I sit back in our Kaprun hotel I can honestly say it was worth the trip.
Leaving Stuttgart just after 4pm, it wasn't until three hours later that we finally reached Austria - and it really was a sight for sore eyes.
Having never ventured here before, I was in complete awe of the picturesque surroundings.
Mountains and deep green forests as far as the eye can see - and despite being exhausted, we just had to stay awake to see it all.
It was 9pm last night (23 hours after we'd left home) when we eventually pulled up outside our hotel.
And although our bodies were screaming for bed, we dived in for a well-deserved (and desperately needed) shower before heading off to meet the Swindon Town staff, and some of Swindon's friendly media (they made us say that).
A couple of beers later and we had to give in.
Hello Swindon Town... finally!
8am - we were forced out of bed by the monotonous ring-ringing of our alarm.

Surely it's not the morning already?!
Three zombies fumbled around - managing to shower, dress, and organise our equipment - and make it downstairs just in time for breakfast.
9.45am - we headed down the road to the training ground, where the boys were already being put through their paces with some serious ball skills and a quick practise match.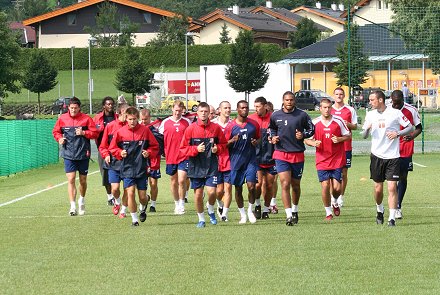 the boys are put through their paces
during an early morning training session
A couple of Swindon fans had even made the journey across Europe to come and watch the boys train and play - with an appearance from Malpas' possible target, Akwasi Oduro.
By the end of a hard session, the players looked how we felt - completely shattered.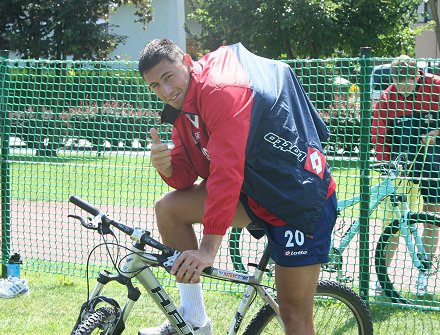 Billy Paynter heads home to prepare for the big match
But they still found time to tell us a couple of stories about their hilarious antics over the last couple of days - including JP McGovern's new position as Club barber (Easton and Timlin are regular customers, with Pook joining that list this afternoon), skipper Hasney Aljofree cleaning up at a poker competition - and best of all, an initiation karaoke session last night with Timlin, Amankwaah and a journalist from FourFourTwo magazine all performing.
Before the boys headed back up to their hotel on their hired bikes (which were girls' bikes, incidentally), I even got a chance at goal.
I won't be holding out too much hope for a place in the squad though!
It's now 3.30pm and we're heading for Kufstein in 10 minutes for the clash against Fenerbahce, so click back tomorrow for more photos and a report of the match.
Over and out...
Update: 10.12pm local time
Swindon Town 1 Fenerbache 1
Town scorer: Cox 61
Fenerbache: Kezman 14
What a game - and what a result!
The Town taking on Champions League quarter-finalists Fenerbache - and our boys more than matching them.
Who needs Roberto Carlos and Spain's Euro 2008 winning-boss Luis Aragones - we've got Simon Cox and Maurice Malpas!
And we were there pitch-side to capture it all.
| | |
| --- | --- |
| | exclusive video coming soon! |
We're off for a drink to celebrate!
7pm - After following the team's coach across the mountains to Kufstein, we made our way in to the media hub where we were met by a Turkish film crew (who were broadcasting the match live) and thousands of screaming Fenerbahce fans.
The whole game was unbelievable - with Spain's Euro 2008 hero and Fenerbahce manager Luis Aragonés leading out top names like Brazilian star Roberto Carlos and ex-Chelsea striker Mateja Kezman.
And for those of you who haven't yet read our match report, you seriously need to see the clip of Simon Cox's goal.


11pm - we drove back to Kaprun, donned our glad-rags, and made our way down to one of the 'lively' bars.
The rest, as they say, is history - but as I wake up at 11am and realise we were meant to have checked out an hour ago, I start to remember just how good last night was.
Oh well, we all deserve a break!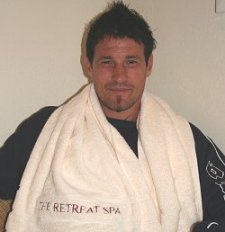 Lee Peacock prepares for a swim
3pm - We make our way to Swindon Town's hotel to follow the boys training, only to find that the weather was working against us.
With the heavens opening, Town's management decided that today's training session would take place in the hotel's pool.

5pm - While the thought of driving another 24 hours back to Swindon makes me want to scream like a baby, we've got to head back.
So we made our way outside where the Swindon Town boys waved us off - but not before Billy Paynter had the chance to show off his memorabilia from last night (only Roberto Carlos' shirt!), and slip behind the wheel of our infamous Merc.
| | |
| --- | --- |
| Billy Paynter with Carlos' shirt | Billy Paynter and Jerel Ifel |
So all that's left to say now is Auf Wiedersehen Swindon Town!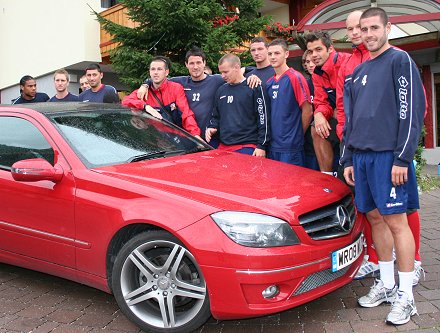 The Swindon Town boys see us off on our way
This SwindonWeb Adventure made possible by:
| | |
| --- | --- |
| | |
| | |
| | Scarrotts Commercials Van and Truck Centre |
| | The Old Bank Brasserie, Old Town, Swindon |
| | |
Thank you also to Giggles Party Shop on Faringdon Road, who provided us with the much-needed nuns outfits!

Austria here we come! - 11/07/2008

Swindon Town training in Austria - 12/07/2008

Swindon Town 1 Fenerbahce 1 - 13/07/2008

Auf Wiedersehen Swindon Town! - 14/07/2008
FourFourTwo magazine
WIN a year's subscription to Britain's best-selling football mag!...

01 August 2008

WONDER GOAL!
Cox scores stunner as Town hold Fenerbahce - watch video! MUST SEE!...

STFC get pampered!
Town have an afternoon off while Malpas prepares for Austria...

08 July 2008