Date added: 24 June 2008
Spirits are high at STFC
Malpas looking for team spirit as pre-season approaches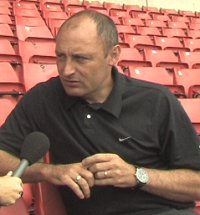 Maurice Malpas is urging fans to be patient, as he works hard to bring in some new faces in preparation for next season.
He admitted he's looking to
experienced players like Peacock, Aljofree and Vincent to show younger players what works in the team.
"Sometimes it's not how they play -it's about how they train the younger ones," said Malpas.
"Mentality, desire and experience are vital, and that's something we really need to work on."
And that's exactly what Maurice is hoping to bring together when a selected squad of 20 will leave for pre-season training in Austria on 9 July.
"Pre-season will be tough, but it's going to develop the squad spirit and bring the boys up to a good fitness level," he added.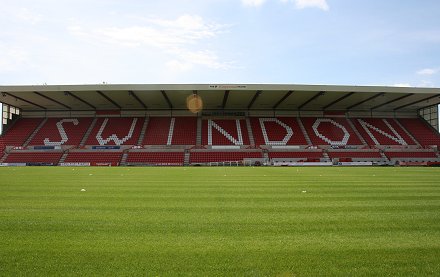 New vision for Swindon Town:
things are changing on and off the pitch at SN1
"We're looking for the likes of Timlin and Kanyuka, who are desperate to do well."
As for next season's numbers, Maurice confirmed that the club put in an offer for a potential new player on Thursday, but are waiting to hear back from his agent.
Click back on Friday for exclusive footage of the team's first training session...