Date added: 13 May 2008
The race is on!
Swindon Town legend Don Rogers kick-starts "Operation 6K"
STFC fans from across the town queued to renew their season tickets at the County Ground yesterday - taking advantage of a reduced price.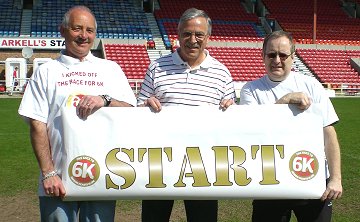 Kicking off the new season:
Town legend Don Rogers (centre)
joined
by
the first fans to get their
tickets -
Derek Watson (left) and Paul Heal
"Operation 6K" - the new initiative which Swindon Town management are hoping will attract more fans to home games - was officially kick-started by Town legend Don Rogers, and Chief Executive Nick Watkins.
Current season ticket holders have until the end of this week to keep their old seats - although many Town End fans are taking advantage of the flat rate price, and moving to the newly-named Don Rogers stand (formerly Arkells).
All other season tickets will go on sale on Monday - so if you'd like to bag yourself a season of football from as little as £229, you'd better move fast!
Mel Turner-Wright