Date added: 22 January 2008
Latest arrival
Maurice Malpas starts shuffling his pack…
The transfer merry-go-round has started in earnest at the County Ground this week with new boss Maurice Malpas making his third signing in as many days.

New boy Patrick Kanyuka joins the club on an 18-month contract following his release form QPR last week.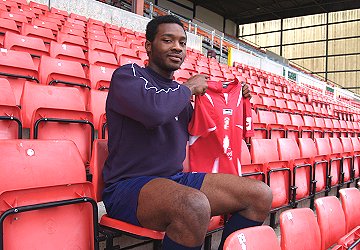 Patrick Kanyuka is the latest to join Malpas' squad

"I have been watching Patrick for a while," the Town boss said, "and when I heard he had become available I quickly put in the call."

Patrick Kanyuka adds cover defensively to Malpas' squad and has already commented about how the three new faces will help provide a championship push.
Players will have to go
However, the new boss has already identified a number of the current squad whose futures he feels lie elsewhere.
The new trio will unfortunately watch have to tonight clash against Barnet from the sidelines - but all three will be looking for a starting place this Saturday against Crewe.
What a start!
Malpas on a high as Town cut Forest down to size...

19 January 2008