Date added: 15 January 2008
The only way is up!
New board and manager for Swindon Town FC
It's a new era for Swindon Town, with Andrew Fitton's consortium unveiled in a press conference at the County Ground today.

The long-awaited appointment of new manager Maurice Malpas also brought an end to weeks of uncertainty – with stability and an open relationship with the fans at the heart of Fitton's plans for the Club.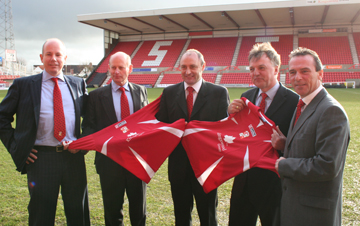 (l-r) Jeremy Wray, Nick Watkins, Maurice Malpas,
Andrew Fitton and Dave Byrne
And with 75 per cent of the club now in the consortium's hands, Fitton took the opportunity to unveil his team.
Alongside the Ramsbury-based businessman was fellow board member Jeremy Wray, Chief Executive Nick Watkins, newly-appointed manager Maurice Malpas and assistant manager Dave Byrne.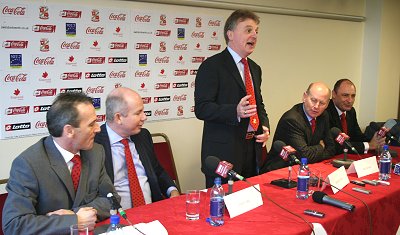 Andrew Fitton gives an uplifting speech

Also on the board are one of Fitton's business acquaintances Russell Backhouse, and James Wills – who is staying on the board to represent the 25 per cent ownership which his family has retained.

When questioned on full ownership of the club, Fitton said: "We are now the owners of 75 per cent of Swindon Town Football Club which, in the world of business, means we are in control."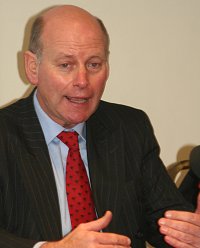 Nick Watkins speaks about
New Chief Executive Nick Watkins also gave an uplifting promise of a "Swindon Experience" for the players, visitors, and more importantly the fans, who are clearly at the centre of plans for development at the County Ground.

As Fitton said: "In a way, the fans do own the club – without them, there isn't one.

"We just need them to be patient and realise that we are doing our best, and remember that change will happen over time."

Malpas' years of youth coaching experience in Scotland, and assistant manager Dave Byrne's former position as coach of STFC youth team, there is definitely room for development with younger players.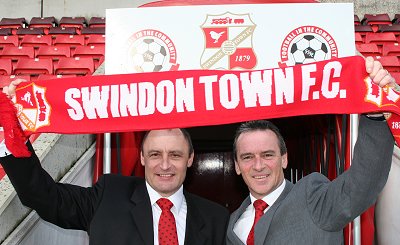 high hopes for the managing team
Maurice Malpas and Dave Byrne

And while this could be a great success for players moving in to the first team, Fitton is adamant that players like Ben Tozer will get the full support of the club if the opportunity arises for promotion to big name clubs in the Premiership.

The next step for Swindon Town will be lifting the current embargo placed on the club, and Fitton is hopeful that a conditional embargo could be in place over the next few days – a temporary measure which will mean deals can be done, with the approval of the Football League.
Mel Turner-Wright