Date added: 18 August 2009
Swindon 1 Southampton 0
Coca-Cola League One
RESULT: Swindon Town 1 Southampton 0
Town scorer: Morrison 9

Swindon fans left the County Ground in ebulient mood tonight after watching their first victory of the season against a Southampton side who failed to live up to their billing.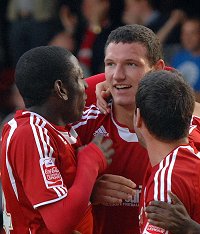 Sean Morrison's ninth minute header from a corner secured the points but had Saint's goalkeeper Kelvin Davis not made string of fine saves the winning margin would have been far greater such was Town's dominance at times.
"We were excellent tonight right from the off," commented a delighted Danny Wilson.
"A win built on a solid defensive display that gave us the confidence to go forward and cause them problems."
The League One table:
1 Colchester 3 8 9
2 Charlton 3 4 9
---------------------
3 Leeds United 3 3 9
4 Huddersfield 3 8 7
5 Brentford 3 3 7
6 Bristol Rovers 3 2 6
---------------------
7 Millwall 3 2 5
8 MK Dons 3 1 5
9 Yeovil 3 1 4
10 Walsall 3 0 4
11 Carlisle 3 -1 4
12 Oldham 3 -1 4
13 Swindon 3 -4 4
14 Gillingham 3 2 3
15 Southend 3 0 3
16 Leyton Orient 3 -1 3
17 Tranmere 3 -1 3
18 Exeter 3 -1 2
19 Wycombe 3 -2 1
20 Hartlepool 3 -3 1
--------------------
21 Stockport 3 -3 1
22 Norwich 3 -7 1
23 Brighton 3 -7 1
24 Southampton 3 -3 -9
NEXT GAME:
Oldham (A)
Saturday 22 August 2009 3:00pm
Coca-Cola League One

Swindon v Southampton - 18/08/2009
Swindon 0 Millwall 1
Fans' agony, Austin in tears and FITTON FURIOUS - it's no Wembley dream for Town...

29 May 2010

Swindon 2 Charlton 1
Austin and Ward give Town the advantage - WATCH SWTV FANS' VIEW + MATCH PHOTOS...

Millwall 3 Swindon 2
Town to face Charlton in the play-off semis - first leg next Friday...

08 May 2010

Leeds 0 Swindon 3
Top two for Town as Paynter and Austin stun Leeds again...

03 April 2010

Swindon 1 Norwich 1
Last-gasp Greer caps brilliant week for Town - SWTV FANS' VIEW + MATCH PHOTOS....

Brighton 0 Swindon 1
Austin steps up to give Town back their confidence despite first-half injuries...

13 March 2010

Orient 0 Swindon 0
Wilson settles for a point despite call for late penalty...

27 February 2010

Swindon 2 Carlisle 0
Paynter & Austin on target again but late Greer injury a worry - MATCH PHOTOS...

20 February 2010

Austin signs
Star striker commits to two-year deal at Town...

02 February 2010

Swindon 3 Leeds 0
Onwards and upwards, Town stun the League leaders - WATCH SWTV FANS' VIEW

Pericard signs
Swindon make their first major signing in the transfer window...

14 January 2010

Fulham 1 Swindon 0
Zamora the difference as Premiership quality proves too much...

02 January 2010

Charlton 2 Swindon 2
Town players gutted as nine-man Charlton score at the death...

26 December 2009

Swindon 1 Woking 0
No shock as Paynter sends Town into the second round...

07 November 2009

Brentford 2 Swindon 3
New striking line-up reaps rewards as Town hang on in a thriller...

03 October 2009

Walsall 1 Swindon 1
Paynter penalty saves a point as unbeaten run extends to nine...

19 September 2009

Oldham 2 Swindon 2
Last second equaliser denies Town after frantic finish...

22 August 2009