Date added: 10 October 2009
Swindon 1 Millwall 1
Coca-Cola League One

RESULT: Swindon 1 Millwall 1

Town scorer: Cuthbert 15
Millwall scorer: Schofield 82
Town manager Danny Wilson joined in the criticism of referree Kevin Wright as Town drew 1-1 for the third concecutive time at home.
A late goal from Millwall's Danny Schofield equalised Scott Cuthbert's 15th minute header, after both teams had been reduced to ten men in a bad tempered game.
The first dismissal that of Town's Jonathan Douglas, who controversially received a straight red for a tackle just before the half-hour. A decision Wilson later described as 'harsh to say the least'.
The second when Andy Frampton was ajudged to have seriously fouled JP McGovern after 64 minutes.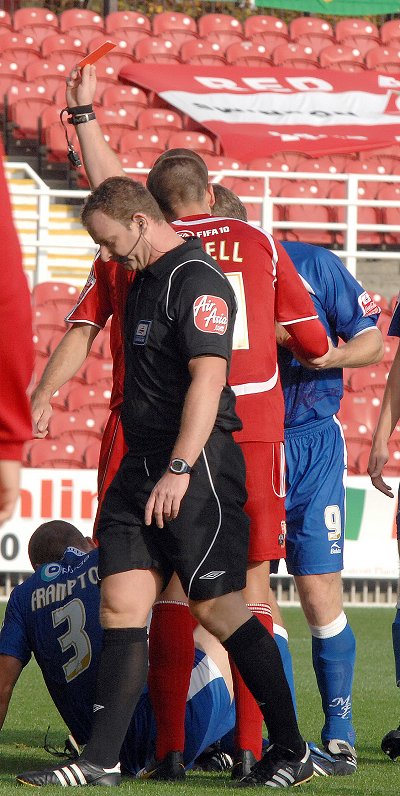 the referee sends off Millwall's Andy Frampton
The referee also showed yellow cards to five other players including McNamee, Amankwaah and Timlin.
"He never really had control of the game and that spoilt it," Wilson added.
"His sending off of Douglas hurt us hard because we had control of the game at that point. But we're still in the mix at the top and unbeaten in eleven."
Town slip a place to 7th.
The top of the League One table:
1 Leeds United 11 13 27
2 Charlton 12 10 25
-------------------------
3 Colchester 12 13 24
4 MK Dons 12 4 23
5 Bristol Rovers 11 4 22
6 Norwich 12 6 19
-------------------------
7 Swindon 12 -1 19
8 Huddersfield 12 9 18
9 Oldham 12 -1 17
10 Millwall 12 4 15
NEXT FEW GAMES:
Hartlepool (H)

Saturday, 17 October 2009 3:00pm
Coca-Cola Football League One
Norwich (A)
Saturday, 24 October 2009 3:00pm
Coca-Cola Football League One
Tranmere (A)
Saturday, 31 October 2009 3:00pm
Coca-Cola Football League One
Leeds United (H)

Saturday, 14 November 2009
Coca-Cola Football League One
Carlisle (A)
Saturday, 21 November 2009 3:00pm
Coca-Cola Football League One
Carlisle v Swindon, 15:00
Huddersfield (H)

Tuesday, 24 November 2009 7:45pm
Coca-Cola Football League One

Swindon Town v Millwall - 10/10/2009
Swindon 0 Millwall 1
Fans' agony, Austin in tears and FITTON FURIOUS - it's no Wembley dream for Town...

29 May 2010

Swindon 2 Charlton 1
Austin and Ward give Town the advantage - WATCH SWTV FANS' VIEW + MATCH PHOTOS...

Millwall 3 Swindon 2
Town to face Charlton in the play-off semis - first leg next Friday...

08 May 2010

Leeds 0 Swindon 3
Top two for Town as Paynter and Austin stun Leeds again...

03 April 2010

Swindon 1 Norwich 1
Last-gasp Greer caps brilliant week for Town - SWTV FANS' VIEW + MATCH PHOTOS....

Brighton 0 Swindon 1
Austin steps up to give Town back their confidence despite first-half injuries...

13 March 2010

Orient 0 Swindon 0
Wilson settles for a point despite call for late penalty...

27 February 2010

Swindon 2 Carlisle 0
Paynter & Austin on target again but late Greer injury a worry - MATCH PHOTOS...

20 February 2010

Austin signs
Star striker commits to two-year deal at Town...

02 February 2010

Swindon 3 Leeds 0
Onwards and upwards, Town stun the League leaders - WATCH SWTV FANS' VIEW

Pericard signs
Swindon make their first major signing in the transfer window...

14 January 2010

Fulham 1 Swindon 0
Zamora the difference as Premiership quality proves too much...

02 January 2010

Charlton 2 Swindon 2
Town players gutted as nine-man Charlton score at the death...

26 December 2009

Swindon 1 Woking 0
No shock as Paynter sends Town into the second round...

07 November 2009

Brentford 2 Swindon 3
New striking line-up reaps rewards as Town hang on in a thriller...

03 October 2009

Walsall 1 Swindon 1
Paynter penalty saves a point as unbeaten run extends to nine...

19 September 2009

Swindon 2 Southend 1
Town's good form continues as they take all 3 points this Bank Holiday...

29 August 2009

Oldham 2 Swindon 2
Last second equaliser denies Town after frantic finish...

22 August 2009