Pub Landlord: World Cup Special
It's been 4 years since his last utterances - and Piper wants to have his say!
In a prelude to speaking once again with the legend that is Mr Chris Piper, landlord extraordinaire of The Kings in Old Town, we dig out from the archives his forthright opinions on England's last sorry attempt to lift the World Cup in 2006.
All those easily offended, please look away now.
Pub Landlord Special World Cup 2006


17 July 2006
In an age when politicians abuse their power to get between the sheets, the media continue to sell lies and world class footballers are big fat cheats, there's only one voice you can really trust...

The pub landlord.

So all hail to the ale and raise your glasses to the King of The Kings, Mr Chris Piper, back by popular demand for a World Cup Special.

After a week of reflection and inner thought, not to mention the odd late night, Chris is ready to let rip!

All opinions expressed in this coloumn are solely Mr Piper's and are copyright Chris Piper Entertainment Limited. If you are mentioned, please take what he says with a big pinch of salt and try and see the funny side. Other than that, SwindonWeb does not accept responsibility for anything Chris says or does - unless he buys us a pint first.
This Week's Topics:
1. Why England didn't win the bloody thing...
"We had a shocker!"

"We seem to think it's a divine right that we're going to win the World Cup - there were even people in here convincing me we were going to win it! Fools. And more fool me for almost believing them!
"But it's the same old scenario. We ended up playing the weakest side and WE COULDN'T EVEN BEAT THEM!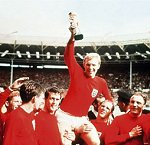 Those where the days:
England 1966
"The papers are the worst culprits. They can't wait to dig at the boys and have a little bite at each of them. You can put that in there.
"You don't have to go round pulling people apart. It becomes boring listening to their comments all the time.

"We've not got a lot to cheer about. We can't even win with the rugby team in Australia. We can't win nothing!

"And the Ashes, well. That's not looking too good is it?

"I thought the football was bad enough. But getting beat by the Australians. That would be unbearable."
Chris's pearl of wisdom:
"Sven, who? What a joke!"
2. Losing on penalties.... again...
"If Gerrard was taking a penalty at the County Ground in an FA Cup match he'd smash that ball right in the corner of the net. Take it for England and he scuffs it.

"It's crazy."
"£100,000 a week and can't score from 12 yards. What is the world coming to?"
3. England players in a word...
Beckham: "Disappointing."

Rooney: "Tried his hardest but one player can't win a world cup for England." (er, that's a bit more than a word Chris…)

Walcott: "Another cock-up by Sven. Should never have been taken. Right from the start it was obvious they were never going to take him." (er… never mind)

Lampard: "What a disappointment he was. He can perform for Chelsea but not for England."

Lennon: "If he'd have started against Portugal we would have beaten them."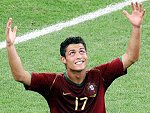 The Kings:
Christiano Ronaldo
Christiano Ronaldo and other Portuguese cheats (we're not bitter here): "The bloke's a disgrace (Chris goes very red in the face). How he can do that to a team mate I don't know.

"Winking at the bloody sideline that was bloody funny, though. I can't comprehend it. That's not football.
"That's disgraceful that is. If you went back years ago you'd have never seen that. But most of these sides are at it now. The slightest bit of contact they roll over three or four times.
"It's a physical game and they've turned it into a pansy's game. I've got no time for it."
"They've turned it into a pansy's game."

4. Graham Poll...
"That's incredible that is. How can a man book the same player three times?!"

"He must of had a few before the game. I'd bet he had about four or five pints of Guinness and then saw everything in three!
"Even the English ref messed it up!"
5. Sven...
"Over-payed prat, if you ask me. No passion. That's what we need."

"He went out with a whimper. But I don't think we'll be any different with McClaren.
"I think Stuart Pearce is the boy myself. He's got passion. He's the man. Without a doubt."
"Passion. That's what's lacking. Passion!"

6. Zidane...
"That was one hell of a headbutt. It was more suitable in the wrestling ring from people like Billy Two Rivers or Jackie Pallow."



"But you should never ever lose your temper. Just don't do it!
"Shame really because he's a class act and the French know it."
"He wouldn't have got away with that in my boozer!"
And elsewhere...
7. A new season at the County Ground…
"I'm looking forward to it!

"They've got to win the first couple of games, though. Away to Hartlepool first then two home games are a must.

"Got to get off to a good start and we should be alright.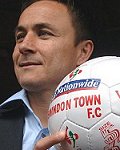 "I'd love to see Swindon go up with my team Torquay United. I'd love that. I'm hoping for two draws between my two teams!
"It was good to see Wise appointing Ady Williams as captain. He's been around for a while. He was in that Reading playoff final where they beat Wigan. If you've got someone like him around the experience will rub off against the younger lads.

"Good move that, especially in that league."
"I'm hopeful. And that's saying something. I've been a Town fan for 50 years, remember!"
8. The great floods of Swindon...
"God knows why it caused so much trouble!
Wat'er waste:
And not a drop to drink

"We don't seem to cope with water! We haven't got enough then we've got too much!
"And what about the hosepipe ban. Another scandal.

"It's ridiculous mate."

Chris's pearl of wisdom:

"Another cock-up. John Prescott doesn't run Thames Water, does he?"
9. The Brunel celebrations...
"Kingdom Brunel? Nah.

"Amazing bloke, though. Take nothing away from him. And the celebrations. Brilliant. Especially those Latino girls!"

"Me, I've been reading about the real history of Swindon.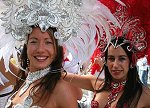 "One particular story that stands out was a farmer in the 19th Century that went from outside Swindon to buy some cattle.

"He didn't actually buy any cattle but got absolutely stoned on wine.

"He got on his horse rode back into Swindon like a raving lunatic. He smashed into a lamppost on Wood Street, broke his neck and left a widow with three children.

"That's the sort of history we should be celebrating!"

Chris's pearl of wisdom:

"Natural rhythm those latino girls. Natural rhythm."

And finally...
10. Who's dropped in for a pint lately?
"David Howell was in here the other day. He's a lovely lad. A credit to Swindon. You put that in there.
"There's no show with him. You get what you see. He's a down to earth Swindon lad.

"We've got some nice celebrities in Swindon. We're lucky in that respect.

"Billie's been in a few times with her dad. Shame that Melinda is a Long's girl!

"And don't get me started on Mark Lamaar!"
"Rich or poor. I get them all in 'ere!"
And that was Chris Piper. Soon to return - depending on contractural negotiations, diary commitments and Jeremy Holt, our top legal-eagle advisor's say-so - to these pages for a World Cup 2010 special. You won't want to miss it.