Date added: 17 September 2007
Swindon's Mini adventure just got bigger
Clubbing has never necessarily been a family thing - but it is now, with the launch of a brand-new Mini estate unveiled today at the BMW Plant in Swindon.
Factory managing director Klaus Hauser introducing the new Mini Clubman to a specially invited group of local business people, dignatories and the media.
A car he described as '....yet another huge milestone in Mini's rich heritage. And an exciting chapter in the Mini success story here in Swindon.'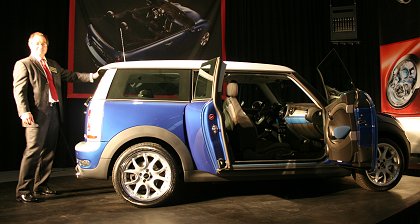 Return of the Clubman:


the unveiling of the new estate Mini at BMW Plant Swindon

The model, the third variant in the new Mini range, which was re-launched in 2001, is the first to feature five doors and seats plus boot capasity of 260 litres.

80% of the bodywork and 90% of the Clubman pressings will be made at the Swindon factory, which has received £60 million pounds of modernisation in the last 2 years.

The plant forms what is desribed as the 'Mini Triangle' alongside the Hams Hall engine plant and the main assembly line in Oxford.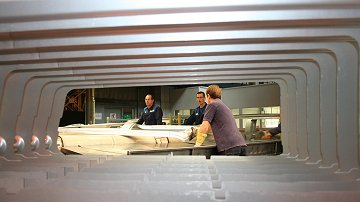 Record production:


BMW's Swindon plant will produce body panels
for 240,000 new Minis in the coming year

"The commitment and flexibility of the Swindon workforce are a huge factor in BMW continually expanding our range of Minis. In the last 12 months we have seen the launch of the latest Mini hatchback and now the Clubman."

"This is a fantastic achievment for all concerned."


The new Mini Clubman is available in engine variants: Cooper D, Cooper and Cooper S.

It will go on sale in the UK on 10 November 2007.

Mini Clubman Launch 2007 - 17/09/2007