Date added: 23 November 2010
End of the 'Tube'
Iconic part of Motorola building dismantled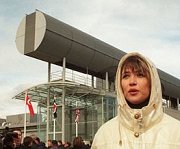 Bond actress Sophie Marceau
at the Motorola Building in 1999
Opened by the Queen in 1998 and once a film set for James Bond, these pictures show the former Motorola building in North Swindon as it undergoes partial demolition.
It was purchased by drugs company Vygon UK last year and will now be turned into a distribution centre. It's central 'tube' structure now surplus to requirements.
Originally designed as a major manufacturing facility for Motorola's GSM radio transmission equipment it cost an estimated £40 million to construct.
The 'tube' - what was it?
For those interested, the building was designed with manufacturing on one side and offices on the other on a central 'street' basis. The rooftop 'tube' seen as vital for communications and with the capacity to accommodate additional services.
Motorola Building Part-Demolition
Diana in Swindon
We look back on the Princess's visits to town - both official & unofficial - WATCH VIDEO

30 August 2017

It's Swindon, Ma'am!
QUEEN ELIZABETH II: In her amazing 70 years on the throne, here's the 4 occasions Her Majesty officially stopped off in Swindon...

Motorola Building
One of Swindon's major pieces of industrial achitecture - and James Bond film location...