Date added: 13 February 2012
The Italian Bar
A little taste of Italy is now on offer in Havelock Street.
Carmine Di Liso, best known for L'Aurora and La Dolce Vita in Cirencester has opened a traditional Italian cafe in Swindon town centre.
The Italian Bar is open throughout the day serving proper Italian expresso, cappucinos and coffees, plus food to eat-in or to go.

The menus includes all the Italian favourites you'd expect - lasagna, pasta, bolognese, plus paninis made-to-order.

Sit down for breakfast and you'll be offered waffles, muffins, fruit juice and fresh criossants - plain with butter or with a choice of fillings, nutella, custard or yoghurt - plus free newspapers and wi-fi.

"It's a place to unwind and relax a bit," Carmine told us, as we took a look around the inside of his new venture - unmistakably decorated in the tricolour of green, white & red.

"All our food is freshly made on the day, and you can sit outside when it gets warmer and enjoy one of Massimo's ice creams. It's not quite Florence, but hey, we've only just opened!"

For those in too much of a rush, free local delivery is available to town centre offices. Just call to order.

The Italian Bar
43 Havelock Street
Swindon
SN1 1SD
Tel: 01793 976068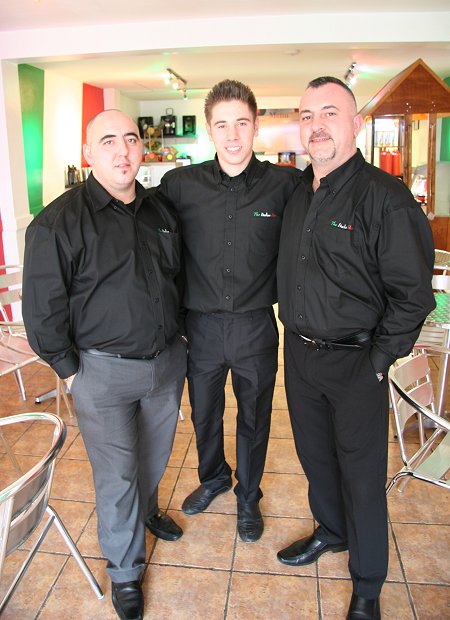 Carmine Di Liso (r), Massimo Salatino (l) & Damian