Things To Do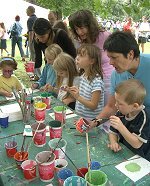 Keeping the little blighters busy can be difficult, can't it?

Times such as half-term and school holidays can be the worst for parents, grand parents as well as uncles and aunts across Swindon if they can't think of anything to stop the kids wrecking the house with boredom.
So if you're in that category, we sympathise - and here's a few ideas.
Kids' Holiday Courses

Details of special summer, easter and half-term activities and courses held at Swindon leisure centres.

And for budding Steven Speilberg's, what about a week filmmaking at Cre8?

Holiday activities

Always plenty going on during school holidays, whether it's pumpkin lantern making during Halloween, Santas grotto at Christmas or an egg hunt at Easter.
ROVES FARM


Farm animals - big and small - around every corner + the world's biggest willow maze!
At the Zoo!

Take your cheeky monkeys somewhere they can really run wild! Open all year round with fun activities to do and lots of animals see.

Let them rip at the bowling alley for a couple of hours. That'll tire them out.

Ten Pin

Popcorn, Pepsi and Pick 'n Mix. Surely a kid's dream. All you need now is the right movie!

Time to let young Billy and little Lizzie climb all over each other for an hour while you enjoy a well earned break.

Quite a recent invention that has become very popular. Look out for the adults enjoying themselves more than the kids.

You haven't lived as a kid if you haven't done the Domebusters at the Oasis.

Swindon isn't Disney World, but did you think we only had three ideas to for getting the kids out of your hair? Just click below for loads more...

Things to do, places to go

What's On in Swindon