Date added: 02 October 2008
44 year wait
Long-time book lover can't wait for new library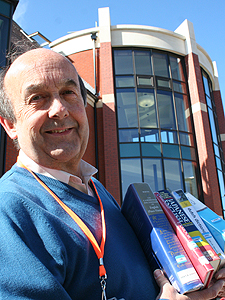 Roger Trayhurn outside the new
Swindon central library
The opening of Swindon's new central library may be only weeks away - but for one book lover it can't come too soon.
He's been waiting 44 years!
Roger Trayhurn, who has been working for Swindon Borough Council library services [SBC] since leaving school and was awarded an SBC Staff Excellence Award in 2006 for his dedication, is all ready for the big day on the 20th October 2008.
"It's been talked about for years and years," commented Roger, who has been helping move books from the temporary library in Princes Street all week.
"Everyone in the library team is extremely excited about it.
"Years ago the library was mainly booked-based, but now there is so much available on the internet.
"I never tire of my job, it is always satisfying to help people learn something new."
The new central library on 2pm on Monday 20 October 2008.
The temporary library in Princes Street is now closed.
All other library services in Swindon are running as normal.