Date added: 15 July 2008
Coate Water plans withdrawn?
Have the developers pulled out of their appeal to build 1,500 homes?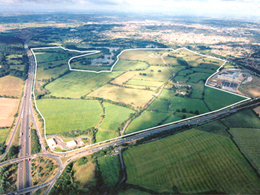 Junction 15 M4 (bottom left); the
Great Western hospital (right)
and the Coate Water lake (top)
It looks like the Swindon Gateway
Partnership [SGP] may have given up on developing a controversial site near Coate Water. For now, anyway.
In the Swindon Advertiser this evening, a formal notice was posted that the SGP (Persimmon Homes and Redrow Homes) have withdrawn their appeal to the Secretary of State for the Environment after Swindon Borough Council [SBC] refused them a decision on the building of up to 1,500 homes and a new University campus on land adjacent to the beauty spot.
SGP had submitted a revised plan last month, but it appears that a combination of the property slump and SBC indicating that a town centre site may be a better location for a University site has led to their decision to put a halt to proceedings.
But don't bet on it, say campaigners against any development ideas.
"Formal confirmation has yet to be received and with rumours that the University of the West of England are still looking favourably at the site as a location for a potential Swindon campus, developers may be confident they can persuade the Government to grant planning permission," one told us.
In 2005, a Government inspector gave the green light for building of a new University on the proposed site - but the University of Bath pulled out of the plan in 2007.
Controversial from the start, local conservationists called the idea to build near Coate Water 'barbaric'. Over 35,000 people have signed a petition against it.